Dev/Homepage/17.03.2015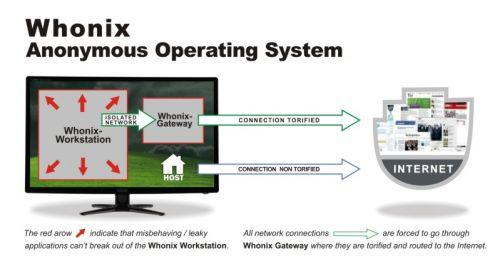 Whonix is an operating system focused on anonymity, privacy and security. It is based on the Tor anonymity network[1], Debian GNU/Linux[2] and security by isolation. DNS leaks are impossible, and not even malware with root privileges can find out the user's real IP.
Whonix consists of two parts: One solely runs Tor and acts as a gateway, which we call Whonix-Gateway. The other, which we call Whonix-Workstation, is on a completely isolated network. Only connections through Tor are possible.
To learn more about security and anonymity under Whonix, please continue to the About Whonix page.
Whonix is free as in price and freedom, lets you run anonymous applications and servers. Whonix has been rated 5/5 stars by users of sourceforge.net on 2014-03-12 [3]
Latest Blog Posts
Error: It's not possible to get https://www.whonix.org/blog/feed/rss2/...
Latest Forum Posts
Error: It's not possible to get https://www.whonix.org/old-forum/index.php?action=.xml;type=rss2;limit=15...
Whonix-Workstation with KDE Desktop: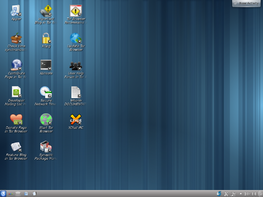 Whonix Desktop Screenshot

Whonix-Workstation with KDE Desktop

Whonixcheck gui screenshot

Whonix timesync gui screenshot

Whonix Stream Isolation Graphic

Metadata anonymiziation toolkit screenshot

Adobe Flash IP Leak Test in Whonix Screenshot

Thunderbird, Icedove Screenshot

Internet Defense League Logo

Open Invention Network Logo

Footnotes
=

Whonix is produced independently of, and carries no guarantee from, The Tor Project[8].
Thanks to Tomchen1989 from Wikimedia Commons for the download button! 1 (w)
Thanks for the MAT public domain screenshot to
awxcnx.de
!
---
No user support in comments. See Support.
Comments will be deleted after some time. Specifically after comments have been addressed in form of wiki enhancements. See Wiki Comments Policy.
---
Random News:
Did you know that Whonix could provide protection against backdoors? See Verifiable Builds. Help is wanted and welcomed.
---
https
| (
forcing
)
onion
This is a wiki. Want to improve this page? Help is welcome and volunteer contributions are happily considered! Read, understand and agree to Conditions for Contributions to Whonix, then Edit! Edits are held for moderation.
Copyright (C) 2012 - 2019 ENCRYPTED SUPPORT LP. Whonix is a trademark. Whonix is a licensee of the Open Invention Network. Unless otherwise noted, the content of this page is copyrighted and licensed under the same Freedom Software license as Whonix itself. (Why?)
By using our website, you acknowledge that you have read, understood and agreed to our Privacy Policy, Cookie Policy, Terms of Service, and E-Sign Consent. Whonix is provided by ENCRYPTED SUPPORT LP. See Imprint.