Página Principal
---

Whonix es un sistema operativo orientado a la seguridad avanzada y privacidad.
Es seguro y a la vez mantiene su usabilidad. Hace que el anonimato sea posible de manera segura, automática mediante el uso de la red TOR. Usa como base una versión modificada de Debian corriendo bajo múltiples máquinas virtuales, proporcionando una importante capa de protección contra malware y filtraciones de la IP.
Las aplicaciones preinstaladas están preconfiguradas de forma de que sean seguras y estén listas para su uso. Además, la instalación de aplicaciones personalizadas o la personalización del escritorio no comprometerán de ninguna manera al usuario.
Whonix es el único SO con desarrollo activo diseñado para ejecutarse dentro de una VM y trabajar bajo la red Tor.
Whonix is a free desktop operating system (OS) that is specifically designed for advanced security and privacy. Based on Tor, Debian GNU/Linux and the principle of security by isolation, it realistically addresses common attack vectors while maintaining usability. Online anonymity is made possible via fail-safe, automatic, and desktop-wide use of the Tor network, meaning all connections are forced through Tor or blocked. The Tor network helps to protect from traffic analysis by bouncing your communications around a distributed network of relays run by global volunteers. Without advanced, end-to-end, netflow correlation attacks, anybody watching your Internet connection cannot easily determine the sites you visit, and those sites cannot learn your physical location. [1]
Whonix uses a heavily reconfigured Debian base which is run inside multiple virtual machines (VMs) on top of the host OS. This architecture provides a substantial layer of protection from malware and IP leaks. Applications are pre-installed and pre-configured with safe defaults to make them ready for use. The user is not jeopardized by installing custom applications or personalizing the desktop. Whonix is the only actively developed OS designed to be run inside a VM and paired with Tor.

Whonix consiste en dos partes: Una solamente corre tor actuando como pasarela, la cual nosotros llamamos Whonix-Gateway. La otra, llamada Whonix-Workstation, está en una red completamente aislada. Sólo las conexiones bajo TOR son posible. Con Whonix, tú puedes usar programas y correr servidores anónimamente en internet.
Las filtraciones DNS son imposibles y ni siquiera un malware con privilegios de root podría encontrar la verdadera IP real del usuario.
Whonix consists of two parts: the Whonix-Gateway and the Whonix-Workstation. The former runs Tor processes and acts as a gateway, while the latter runs user applications on a completely isolated network. The Whonix design affords several benefits:
Only connections through Tor are permitted.
Servers can be run, and applications used, anonymously over the internet.
DNS leaks are impossible.
Malware with root privileges cannot discover the user's real IP address.
Threats posed by misbehaving applications and user error are minimized.

Figure: Whonix Operating System Design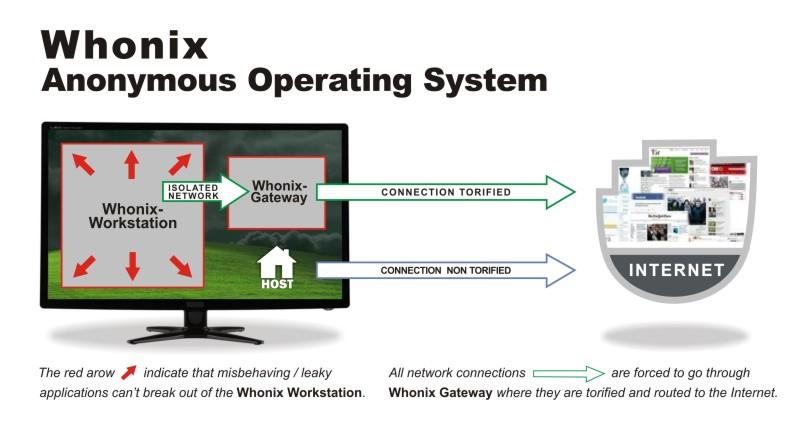 Many pre-installed or custom-installed applications used simultaneously are stream-isolated in Whonix. For example, Tor Browser, Hexchat, Thunderbird and several other applications use a dedicated Tor SocksPort, preventing identity (pseudonym) correlation that may otherwise occur when the same Tor circuit and exit relay are used. Applications using Tor's DNS and/or Transport can be optionally disabled.
Figure: Whonix Stream Isolation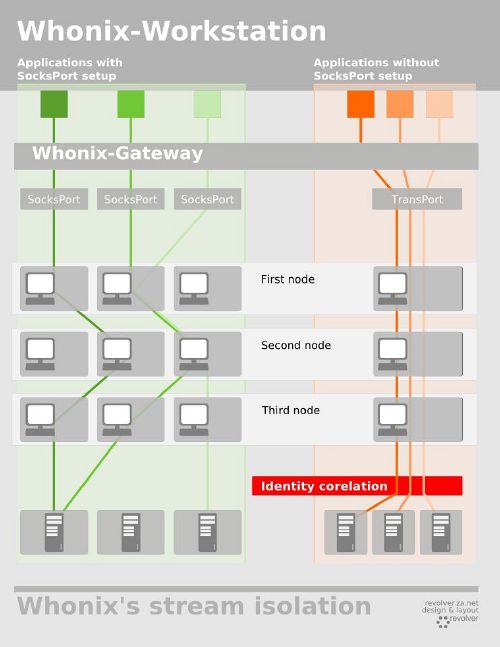 Whonix ayuda las quienes hacen trabajos sensibles en sus computadoras o en línea. Esto incluye a:
The increasing threat of mass surveillance and repression all over the world means our freedoms and privacy are rapidly being eroded. Without precautions, your Internet service provider (ISP) and global surveillance systems can record everything you do online, as IP addresses associated with network activity are easily traced to the physical location of your computer(s), and ultimately you. Whonix is one solution to this problem.
Anyone who values privacy or does sensitive work on their desktop or online can benefit from using Whonix. This includes, but is not limited to:
Investigadores e informantes cuyo trabajo amenaza a quienes tienen poder.

En un ambiente aislado, la investigación y la evidencia se puede ser recolectada sin riesgo de exposición accidental.
Investigadores, agentes del gobierno o personas de negocios que pueden ser blanco de espionaje.

Las modificaciones al sistema reducen la amenaza de troyanos y puertas traseras.
Periodistas que se arriesgan a sí mismos y a sus familias al reportar sobre el crimen organizado.

El uso de un internet descentralizado y anónimo previene la relación entre los medios sociales y otras identidades.
Activistas políticos que son blancos de ataques y vigilancia.

La efectividad de un ataque del ISP para analizar el tráfico de internet será severamente limitada. La dificultad de analizar un usuario de Whonix es grandemente incrementada.
Ciertos personas en un entorno represivo o censurado.

Easy Tor setup and options for advanced configurations means users in repressive countries can fully access the internet desktop-wide, not just in their browser.
Personas que simplemente no quieren que todo o algún aspecto de su vida privada sea subida, guardada y analizada.

Whonix no recolecta silenciosamente información sobre la identidad del usuario en segundo plano.
Portal
|
Acerca de
---
Impressum
|
Datenschutz
|
Haftungsausschluss
Twitter
|
Facebook
|
Google+
↑ Current practical, low-latency, anonymity designs like Tor fail when the attacker can see both ends of the communication channel (traffic going into and out of the Tor network). If you can see both flows, simple statistics based on data volume and timing can determine whether they match up.