Startseite
---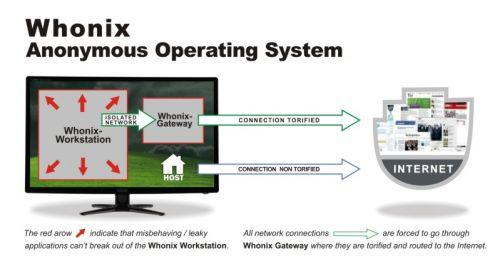 Whonix ist ein Betriebssystem mit Fokus auf Anonymität, Privatsphäre und Sicherheit. Es basiert auf dem Tor-Netzwerk[1], Debian GNU/Linux[2] und dem Sicherheitskonzept der Isolierung. DNS Leaks sind unmöglich und selbst Malware mit Root-Rechten kann die echte IP des Nutzers nicht herausfinden.
Whonix besteht aus zwei Teilen: Einer hat nur den Zweck, eine Verbindung über das Tor-Netzwerk herzustellen und dient als Gateway, daher der Name "Whonix-Gateway". Der Andere, genannt "Whonix-Workstation", ist über ein isoliertes Netzwerk angebunden. Nur Verbindungen durch das Tor-Netzwerk sind möglich.
Whonix is free as in price and freedom (Why?), was sourceforge project of the week and it has been rated 5/5 stars by users of sourceforge.net [3].
Du möchtest mehr über Sicherheit und Anonymität unter Whonix erfahren? Sieh dir doch die Über Whonix Seite an.
Things we do at the Whonix project: Innovate, Cooperate and Educate

---
Fußnoten
Whonix wurde unabhängig vom Tor-Projekt entwickelt und trägt daher keine Garantie vom Tor-Projekt.[15].
Vielen Dank an Tomchen1989 von Wikimedia Commons für den Download Button! 1 (w)
Vielen Dank für die MAT-Public-Domain-Screenshots an
awxcnx.de
!
---
---
Impressum
|
Datenschutz
|
Haftungsausschluss
https | (forcing) onion
Share: Twitter | Facebook | Google+
This is a wiki. Want to improve this page? Help is welcome and volunteer contributions are happily considered! See Conditions for Contributions to Whonix, then Edit! IP addresses are scrubbed, but editing over Tor is recommended. Edits are held for moderation.
Whonix (g+) is a licensee of the Open Invention Network. Unless otherwise noted, the content of this page is copyrighted and licensed under the same Libre Software license as Whonix itself. (Why?)