Portal/es
---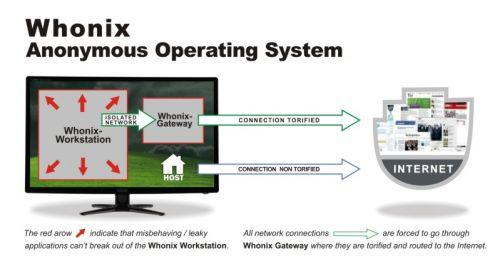 Whonix es un sistema operativo orientado al anonimato, privacidad y a la seguridad.
Está basado en la red de anonimato TOR[1], Debian GNU/LINUX[2] y seguridad por aislamiento.
Whonix consiste en dos partes: Una solamente corre tor actuando como pasarela, la cual nosotros llamamos Whonix-Gateway. La otra, llamada Whonix-Workstation, está en una red completamente aislada. Sólo las conexiones bajo TOR son posible. Con Whonix, tú puedes usar programas y correr servidores anónimamente en internet.
Las filtraciones DNS son imposibles y ni siquiera un malware con privilegios de root podría encontrar la verdadera IP real del usuario.
Whonix es gratuito y libre (Why?), fué el proyecto de la semana en el proyecto sourceforge y fue calificado con 5 estrellas por los usuarios de sourceforge.net
[3].
Para aprender más sobre seguridad y anonimato bajo whonix, por favor ve a la página Sobre Whonix
Cosas que hacemos en el proyecto Whonix: Innovar, cooperar y educar.

---
Footnotes
Whonix is produced independently of, and carries no guarantee from, The Tor Project[15].
Thanks to Tomchen1989 from Wikimedia Commons for the download button! 1 (w)
Thanks for the MAT public domain screenshot to
awxcnx.de
!
---
---
Impressum
|
Datenschutz
|
Haftungsausschluss
https | (forcing) onion
Share: Twitter | Facebook | Google+
This is a wiki. Want to improve this page? Help is welcome and volunteer contributions are happily considered! See Conditions for Contributions to Whonix, then Edit! IP addresses are scrubbed, but editing over Tor is recommended. Edits are held for moderation.
Whonix (g+) is a licensee of the Open Invention Network. Unless otherwise noted, the content of this page is copyrighted and licensed under the same Libre Software license as Whonix itself. (Why?)