Strona główna
---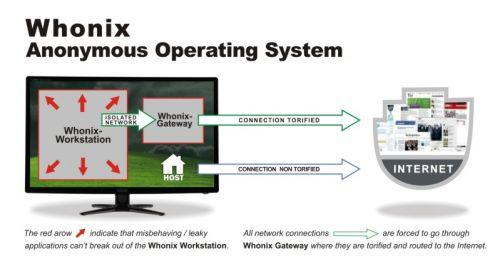 Whonix jest systemem operacyjnym skoncentrowanym na anonimowości, prywatności i bezpieczeństwie. Jego fundamentem jest sieć Tor, której założeniem jest anonimowość[1], Debian GNU/Linux[2] oraz bezpieczeństwo poprzez izolacje. Wycieki DNS stają sie niemożliwe, a oprogramowanie malware nawet z przywilejami użytkownika root nie jest w stanie odczytać numeru IP użytkownika.
Na Whonix składają się dwie części. Jedna przeznaczona do obsługi sieci Tor, działa jak bramka - nazywamy ją Whonix-Gateway. Druga, którą nazywamy Whonix-Workstation, znajduje się w całkowicie wyizolowanej sieci. Połączenia możliwe ją jedynie przez Whonix-Gateway, gwarantując ich bezpieczeństwo.
Whonix is free as in price and freedom (Why?), was sourceforge project of the week and it has been rated 5/5 stars by users of sourceforge.net [3].
Aby dowiedzieć się wiecej o bezpieczeństwie i anonimowości w Whonix, przejdź do O Whonix.
Things we do at the Whonix project: Innovate, Cooperate and Educate

---
Uwagi końcowe
Whonix produkowany jest niezależnie od Tor'a i nie gwarantuje jego funkcjonalności.[15].
Thanks to Tomchen1989 from Wikimedia Commons for the download button! 1 (w)
Thanks for the MAT public domain screenshot to
awxcnx.de
!
---
---
Impressum
|
Datenschutz
|
Haftungsausschluss
https | (forcing) onion
Share: Twitter | Facebook | Google+
This is a wiki. Want to improve this page? Help is welcome and volunteer contributions are happily considered! See Conditions for Contributions to Whonix, then Edit! IP addresses are scrubbed, but editing over Tor is recommended. Edits are held for moderation.
Whonix (g+) is a licensee of the Open Invention Network. Unless otherwise noted, the content of this page is copyrighted and licensed under the same Libre Software license as Whonix itself. (Why?)