主页
---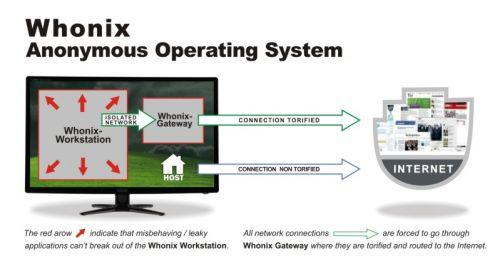 Whonix是一个注重于匿名性、隐私、安全的操作系统。它基于Tor匿名网络[1],Debian GNU/Linux[2]以及通过隔离以达到安全的目的。DNS泄漏是不可能的,甚至有root权限的恶意软件也不能获得用户的真实IP。
Whonix由两部分组成:一个像网关一样只运行Tor,称之为Whonix-Gateway。另一个叫Whonix-Workstation, 在一个完全隔离的网络中。只能通过Tor联网。
Whonix是免费并自由的帮助你运行匿名程序和服务。在2014年3月12日,Whonix在sourceforge.net被用户评价为5/5星[3]
Whonix sourceforge.net project home page (w); Whonix sourceforge.net project review page (w)</ref>.
要了解更多关于Whonix的安全性与匿名性,请到 关于Whonix页面。
Things we do at the Whonix project: Innovate, Cooperate and Educate

---
脚注
Whonix是一个独立于The Tor Project的项目,它并没有保证。[13].
感谢来自Wikimedia Commons的Tomchen1989做的下载按钮!1 (w)
感谢MAT共有领域截图到
awxcnx.de
!
---
---
Impressum
|
Datenschutz
|
Haftungsausschluss
https | (forcing) onion
Share: Twitter | Facebook | Google+
This is a wiki. Want to improve this page? Help is welcome and volunteer contributions are happily considered! See Conditions for Contributions to Whonix, then Edit! IP addresses are scrubbed, but editing over Tor is recommended. Edits are held for moderation.
Whonix (g+) is a licensee of the Open Invention Network. Unless otherwise noted, the content of this page is copyrighted and licensed under the same Libre Software license as Whonix itself. (Why?)