RAM Adjusted Desktop Starter
From Whonix
rads - RAM Adjusted Desktop Starter - Starts [no] desktop environment based on available RAM. Automatically boots into graphical desktop environment, when there is enough RAM. Or into terminal-only, when there is too little RAM. Useful inside virtual machines. - For better usability.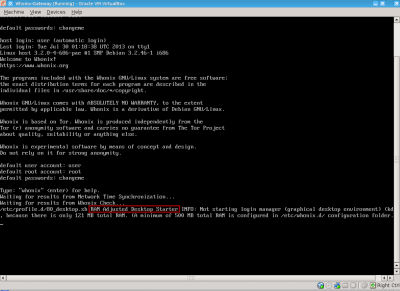 When booting up, a prompt will appear offering to prevent XFCE from starting. Users can also manually press Ctrl + C for the same effect.
By default, Whonix-Gateway ™ is configured with 768 MB virtual RAM. This can be reduced on systems with low available resources.
If total RAM is more than 512 MB, the default desktop environment (XFCE) is started.
If total RAM is less than 512 MB (for example, the minimum 256 MB RAM requirement), XFCE (lightdm) is not started. [1]
Users with low RAM resources should find this convenient because Whonix-Gateway ™ RAM can be reduced to 256 MB and still function. Further, if something needs configuring or checking, 512 MB RAM can be assigned to automatically boot into the graphical XFCE desktop. Additional settings are available in /etc/rads.d/ to configure this feature: additional RAM can be added (but still not choosing to boot into a desktop environment), different display managers can be used and so on.
If users would like to never automatically start a desktop environment independently on how much RAM they assigned.
In the terminal complete the following steps.
Open file /etc/rads.d/50_user.conf in an editor with root rights.
(Qubes-Whonix ™: In TemplateVM)
This box uses lxsudo for root privilege escalation and mousepad as editor. These are examples. Other tools could archive the same goal too. If these example tools do not work for you or if you are not using Whonix, please see this link.
If you are using a graphical Whonix or Qubes-Whonix ™ with XFCE, run.
lxsudo mousepad /etc/rads.d/50_user.conf
If you are using a terminal-only Whonix, run.
sudo nano /etc/rads.d/50_user.conf
Add the following content.
rads_start_display_manager=0
Save.
The procedure is now complete.
---
No user support in comments. See Support. Comments will be deleted after some time. Specifically after comments have been addressed in form of wiki enhancements. See Wiki Comments Policy.
---
---
Follow: Twitter | Facebook | gab.ai | Stay Tuned | Whonix News
This is a wiki. Want to improve this page? Help is welcome and volunteer contributions are happily considered! Read, understand and agree to Conditions for Contributions to Whonix ™, then Edit! Edits are held for moderation.
Copyright (C) 2012 - 2019 ENCRYPTED SUPPORT LP. Whonix ™ is a trademark. Whonix ™ is a licensee of the Open Invention Network. Unless otherwise noted, the content of this page is copyrighted and licensed under the same Freedom Software license as Whonix ™ itself. (Why?)
Whonix ™ is a derivative of and not affiliated with Debian. Debian is a registered trademark owned by Software in the Public Interest, Inc.
Whonix ™ is produced independently from the Tor® anonymity software and carries no guarantee from The Tor Project about quality, suitability or anything else.
By using our website, you acknowledge that you have read, understood and agreed to our Privacy Policy, Cookie Policy, Terms of Service, and E-Sign Consent. Whonix ™ is provided by ENCRYPTED SUPPORT LP. See Imprint.
↑

Whonix-Gateway ™ can work with as little as 128 MB RAM, but resource intensive operations like kernel package upgrades that rebuild the initrd leave the virtual machine in a frozen state.