Uruchamianie Whonix'a
---
Uruchamianie Whonix'a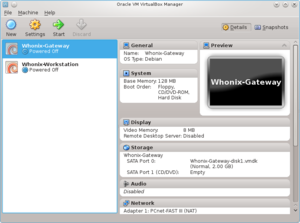 Uruchamianie Whonix'a jest proste. Otwórz VirtualBox, a następnie dwukrotnie kliknij na Whonix-Gateway oraz Whonix-Workstation.
If you need more help with starting, there are Video Tutorials
(które tłumaczy proces instalacji i startu).
( Pomoc video )
Jeśli wciąż potrzebujesz pomocy, sprawdź Forum Pomocy Użytkownika Whonix.
Domyślną nazwą użytkownika jest: user
Domyślnym hasłem jest: changeme
Whonix nie chce się uruchomić?
Błąd PAE
Jeśli Whonix nie uruchamia się z braku PAE, otwórz Virtual Box, kliknij prawym przyciskiem myszy na Whonix-Gateway, Ustawienia, Procesor, zablokuj okienko "PAE/NX" i potwierdź.
Powtórz ten proces również dla Whonix-Workstation.
Read the Boot Options chapter and use the 486 kernel.
VERR_SSM_FIELD_NOT_CONSECUTIVE
Jeśli wyświetlony zostaje komunikat "Failed to load unit 'PATM' (VERR_SSM_FIELD_NOT_CONSECUTIVE).", odblokuj VT-x w BIOS'ie.
Kernel Panic
This probably similar to PAE crash and VERR_SSM_FIELD_NOT_CONSECUTIVE issues above. If you can, enable VT-x in BIOS. If you cannot, then disable PAE/NX in VirtualBox (see PAE crash above for instructions on how to do so) and then read the Boot Options chapter and use the 486 kernel.
VT-x jest zablokowany w BIOS'ie
Jeśli zostaje wyświetlona ta wiadomość:

Failed to open a session for the virtual machine Whonix-Gateway.

VT-x is disabled in the BIOS.
(VERR_VMX_MSR_VMXON_DISABLED).

odblokuj VT-x w BIOS'ie.
Inne powody
Idź do strony Download. Zawiera ona instrukcje na temat tego w jaki sposób pobrać oraz zweryfikować obrazy wirtualnych maszyn Whonix. Zawiera ona także pomoc w formie zdjęć oraz video.
Jeśli wciąż potrzebujesz pomocy, odwiedź Forum Pomocy Użytkownika Whonix.
Opcje Boot
Po otwarciu menu grub boot masz dwie sekundy na wybór jednego z dwóch domyślnych kerneli.
Domyślny 686-pae kernel.
Kernel 486.
Jeśli Whonix uruchamia się prawidłowo nie musisz zmieniać żadnych ustawień i możesz pozostać przy kernelu 686-pae.
In case you need to disable PAE, use the 486 kernel.
---
---
Impressum
|
Datenschutz
|
Haftungsausschluss
https | (forcing) onion
Share: Twitter | Facebook | Google+
This is a wiki. Want to improve this page? Help is welcome and volunteer contributions are happily considered! See Conditions for Contributions to Whonix, then Edit! IP addresses are scrubbed, but editing over Tor is recommended. Edits are held for moderation.
Whonix (g+) is a licensee of the Open Invention Network. Unless otherwise noted, the content of this page is copyrighted and licensed under the same Libre Software license as Whonix itself. (Why?)