Stay tuned
Introduction
It is important to read the latest Whonix news to stay in touch with ongoing developments. This way, users also benefit from notifications about important security vulnerabilities and improved releases which address identified issues, like those found affecting the updater or other core elements.
Whonix News Forums
For user convenience, there are multiple avenues for receiving news. Choose the most suitable option from this list:
Whonix Important News Forum Tag - Only critical information is reported. This includes security vulnerabilities and new stable Whonix versions. It is best suited for people with very limited time and interest in Whonix development and news.
Whonix News Forums - This includes everything including important news and has a relaxed posting policy. Testers-only and developers Whonix versions are announced here, along with the publishing of news about updated articles, new features, future features, development, calls for testing, general project ideas and so on.
Other choices. [1]

If time-constrained, users should at least read the Whonix Important News Forum Tag. Follow the Whonix News Forums if interested in learning about anonymity / privacy / security-related issues in detail, or to follow recent Whonix developments.
Operating System Updates
As strongly recommended in the Security Guide, it is necessary to regularly check for operating system updates on the host operating system, and both the Whonix-Workstation and Whonix-Gateway.
Tor Browser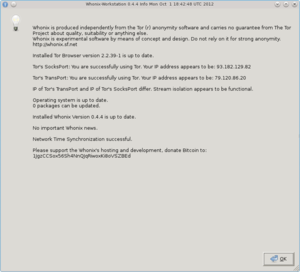 Tor Browser's built-in update check mechanism also works in Whonix, so use it whenever updates become available. [2]
For additional information about Tor Browser updates see Tor Browser. Additionally, consider subscribing to https://blog.torproject.org for developments from The Tor Project.
Whonix Version Check and Whonix News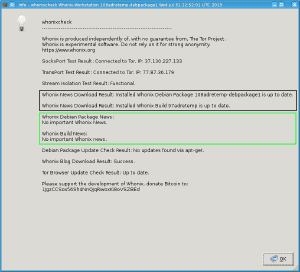 Whonixcheck will also automatically provide notifications about new Whonix versions and critical Whonix News updates. [3]
By default, Whonixcheck runs automatically from time to time whenever the user starts up a Whonix-Workstation (commonly called whonix-ws). Whonixcheck verifies that the Whonix system is up-to-date and that everything is in proper working order.
Even though Whonixcheck should run automatically and periodically, [4] users can also manually run Whonixcheck to check the system status by following the directions below.
If you are using Qubes-Whonix, complete the following steps. [5]
Qubes App Launcher (blue/grey "Q") -> click on the Whonix VM you want to check -> whonixcheck / System Check
If you are using a graphical Whonix, complete the following steps.
Start Menu -> System -> whonixcheck
If you are using a terminal-only Whonix, complete the following steps.
Depending on the system specifications, Whonixcheck may take up to a few minutes to run. Assuming everything is working as intended, the output should highlight each "INFO" heading in green (not red). A successful Whonixcheck process results in output similar to the sample below.
Sample Whonixcheck Output
INFO: SocksPort Test Result: Connected to Tor. IP: 146.10.104.240 

INFO: TransPort Test Result: Connected to Tor. IP: 91.89.96.88 

INFO: Stream Isolation Test Result: Functional. 

INFO: Whonix News Result:
√ Up to date: whonix-workstation-packages-dependencies 3.4.2-1

INFO: Debian Package Update Check Result: No updates found via apt-get. 

INFO: Whonix APT Repository: Enabled. When the Whonix team releases JESSIE updates, they will be AUTOMATICALLY installed (when you run apt-get dist-upgrade) along with updated packages from the Debian team. Please read https://www.whonix.org/wiki/Trust to understand the risk. If you want to change this, use: 
dom0 -> Start Menu -> Template: whonix-ws -> Whonix Repository 

Tor Bootstrap
Tor bootstrap refers to the process of attempting to connect to the Tor network (successfully or unsuccessfully). Familiar output related to this process includes: "Tor connecting xx percent...", "Tor not connected", "Tor connected" and so on. Bootstrapping does not refer to related concepts, such as whether connections are "secure", "not secure", "anonymous" or "not anonymous".
Social Media Profiles
There are some Whonix Social Media Profiles online, but please do not rely on them for the latest Whonix News or to contact Whonix developers (see Contact for contact information).
As some users will disregard this advice, messages from the Whonix Feature Blog are automatically mirrored to the Whonix Twitter Profile and the Whonix Facebook Profile. However, they are not mirrored to the Whonix Google+ Profile.
Soon:
If it is safe to inform others about Whonix, feel free to Contribute via an anonymous account that follows or likes these profiles. This page can be shared on: Twitter | Facebook.
Source Code
If Whonix source code updates are of interest, subscribe to code changes.