VirtualBox/de
---
1) Download für Windows, Mac and Linux...

Note: Beide Images, Gateway und Workstation, müssen heruntergeladen werden.

Version: 13.0.0.1.4
Note: You need to download both Gateway and Workstation virtual machine images.

Verifizieren Sie die Whonix Images
It is important to check the integrity of the virtual machine images you downloaded to make sure no man-in-the-middle attack or file corruption happened. (See Download Security.)
| | |
| --- | --- |
| | Warning: Do not continue if verification failed! You risk using infected or erroneous files! The whole point of verification is to confirm file integrity. |
Whonix virtual machine images are cryptographically signed using OpenPGP[3] by Whonix developer Patrick Schleizer.
If you know how to use an OpenPGP key, download the Whonix Signing Key and the Whonix signatures straight away.
Otherwise, follow the instructions:

2) Installation von Whonix

Installiere Sie VirtualBox.

Windows, Mac: Virtualbox herunterladen und installieren.
Linux und andere, um VirtualBox zu installieren:

sudo apt-get install virtualbox linux-headers-$(uname -r)

3) Whonix in VirtualBox importieren.
Um eine detaillierte, bebilderte Anleitung zu sehen wie Whonix in VirtualBox importiert werden kann, bitte auf "expand" auf der rechten Seite klicken.
VirtualBox starten.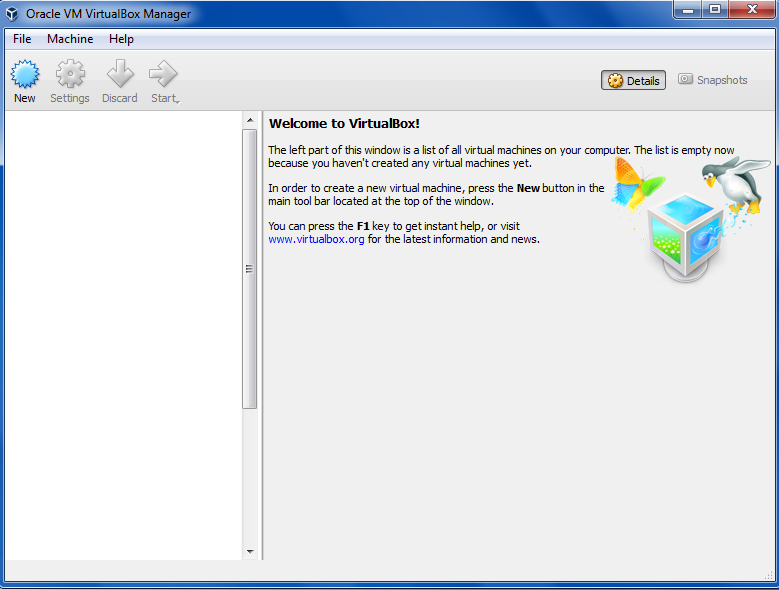 Klick Sie auf Datei wählen Sie dann Appliance Importieren...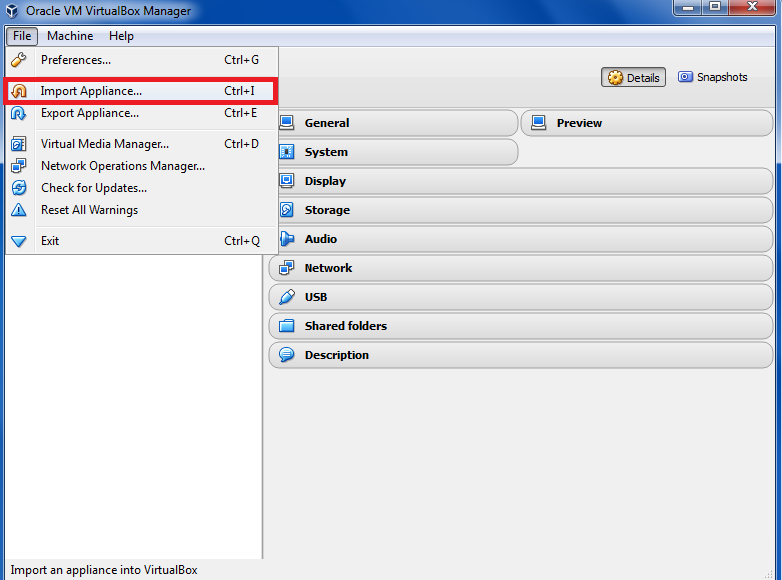 Navigate and select Whonix image and press next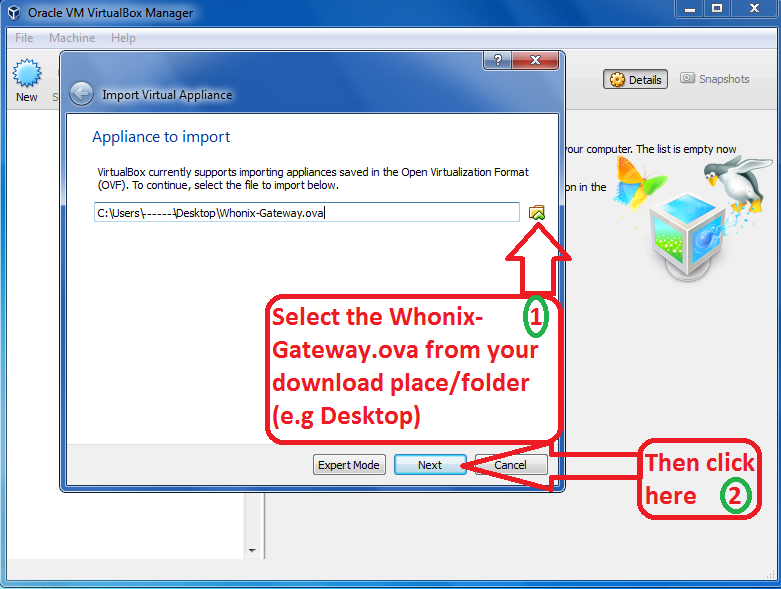 Do NOT change anything! Just click on </u>Import</u>.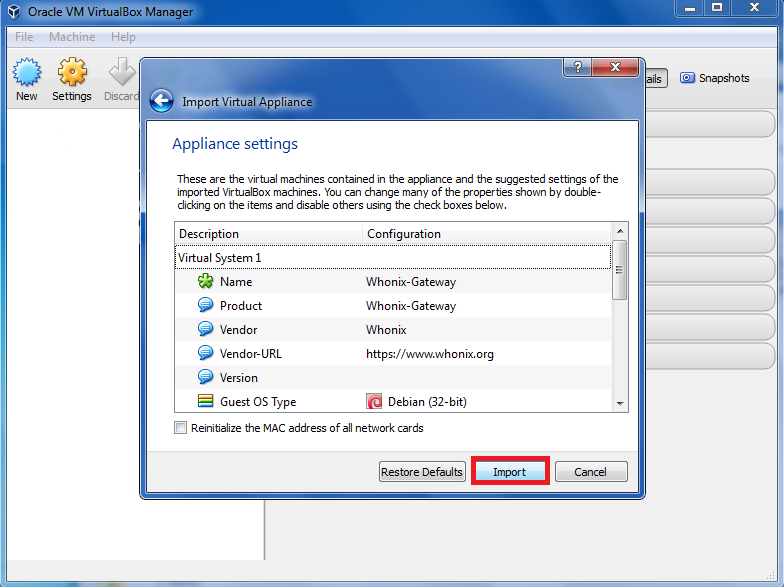 Wait until Whonix-Gateway.ova has been imported.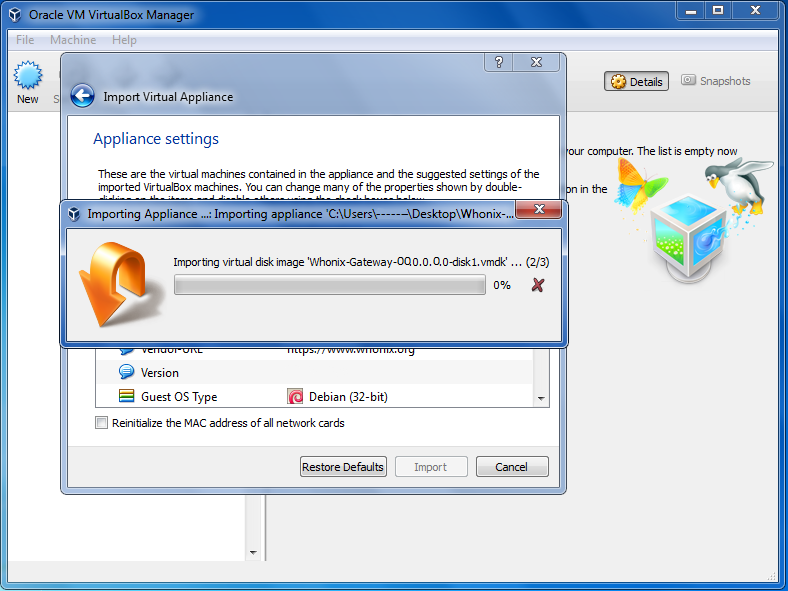 Repeat the import step also for Whonix-Workstation.ova.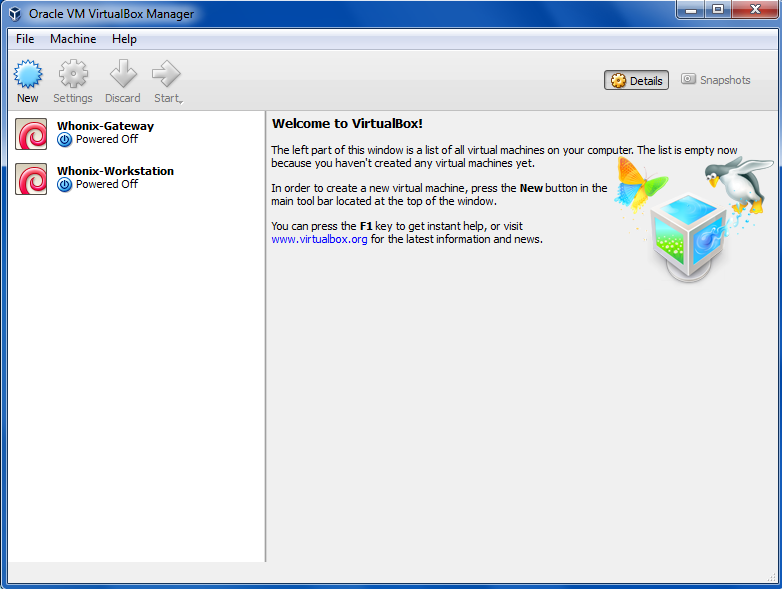 Now start both Whonix-Gateway and Whonix-Workstation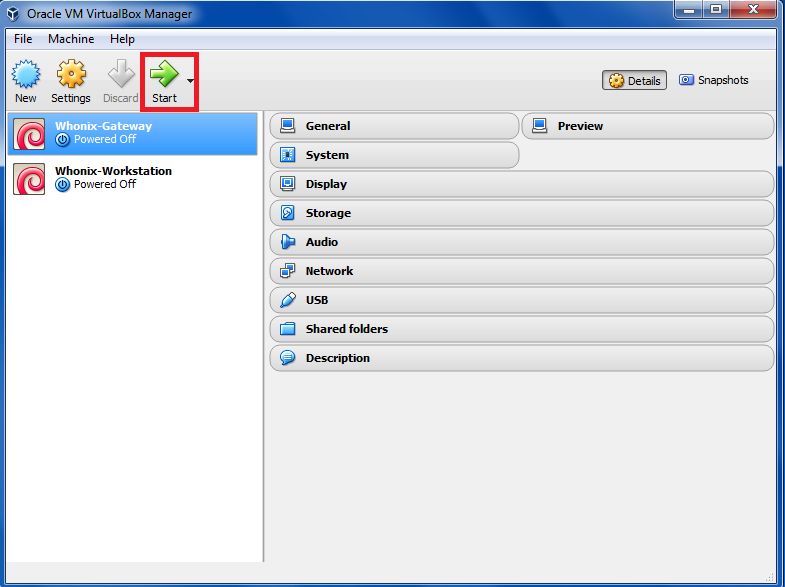 Misc
There are also Video Tutorials.
If you still need help, please check the Support page.
4) Whonix starten

Whonix zu starten ist einfach. Starten Sie VirtualBox -> Doppelklicken Sie auf Whonix-Gateway und Doppelklicken Sie auf Whonix-Workstation
Erstes mal Whonix?
The default username is: user
The default password is: changeme
Warning:

If you don't know what metadata or a man-in-the-middle attack is.
If you think nobody can eavesdrop on your communications because you are using Tor.
If you have no idea about how Whonix works.

Then, have a look at the About, Warning and Do Not pages to make sure that Whonix is the right tool for you and its limitations are well understood.
Siehe auch
For more please press on expand on the right.
VirtualBox ist ein bekannter Virtualizer, welcher für Windows. Linux und Mac verfügbar ist.
A supported platform that can run Whonix. There are also others.
Help Wanted
Fußnoten
↑ 1.0 1.1 1.2 1.3 By using the Tor Browser Bundle (TBB). For an introduction, see Tor Browser. See also Hide Tor and Whonix from your ISP.
↑

It does not matter if you did the bulk download over an insecure channel, if you use OpenPGP verification at the end.

↑

OpenPGP is a standard for data encryption that provides cryptographic privacy and authentication through the use of keys owned by its users.
---
Random News:
Love Whonix and want to help spread the word? You can start by telling your friends or posting news about Whonix on your website, blog or social media.
---
Impressum
|
Datenschutz
|
Haftungsausschluss
https | (forcing) onion
Share: Twitter | Facebook | Google+
This is a wiki. Want to improve this page? Help is welcome and volunteer contributions are happily considered! See
Conditions for Contributions to Whonix
, then
Edit
! IP addresses are scrubbed, but editing over Tor is recommended. Edits are held for moderation. Whonix (
g+) is a
licensee
of the Open Invention Network. Unless otherwise noted above, the content of this page is
copyrighted
and licensed under the same Free (as in speech)
license
as Whonix itself.