Encrypted Email with Thunderbird, Enigmail and TorBirdy
From Whonix
Credits
[
edit
]
Gratitude is expressed to tempest for permission to use this material for the Whonix ™ wiki documentation. [1] This material forms chapter 4.5 of A Beginner Friendly Comprehensive Guide to Installing and Using a Safer Anonymous Operating System, which can be found here [archive]. Minor editorial changes have been made to the source material, along with additional Qubes-Whonix ™ steps and wiki / external references where appropriate.
Introduction
[
edit
]
Due to the complexity of software in the past, one of the most underutilized forms of protection for users is email encryption. However, it is now easier to take advantage of encrypted email via the use of Thunderbird (Mozilla's email client) and Enigmail, which is a graphical front-end for using the GnuPG ("GPG") encryption program. The TorBirdy extension is also available to make Thunderbird connections take place over the Tor network. [2]
Encrypted subject and references headers are also now possible in Enigmail, reducing the leakage of metadata. [3] [4] However, MIME is not used in these instructions to reduce the risk of Enigmail bugs exposing unencrypted messages, meaning the subject line will not be encrypted. On the upside, this configuration change allows the user to confirm their message is actually encrypted before it is sent.
The following guide provides a higher security and privacy standard than relying upon online services such as ProtonMail or Lavabit, that promise "encrypted email" in transit or storage. Online systems can still be broken by an attacker capable of exploiting JavaScript flaws or undermining certificate authorities that provide encryption certificates for websites; see Webmail. Further, online providers can be compelled by National Security Letters to allow government access for extended periods. This is often coupled with a gag order that threatens severe legal sanctions, preventing the announcement of government backdooring. [5]
To minimize these risks and improve security, the following guide uses a suitable Desktop Email Client instead of webmail, paired with strong, end-to-end encryption that protects the contents so it can only be read by the intended recipient. Further, a strong encryption key-pair is created so the user has strict control over the private key, which is stored securely. Keep in mind this method does not make email infallible -- advanced adversaries can easily penetrate Internet-facing endpoints of targets with today's cutting-edge surveillance and offensive systems. Also, mistakes or poor security practices on behalf of the email recipient can inadvertently lead to disclosures of plaintext.
Overview
[
edit
]
The following guide provides steps to:
Install the Thunderbird email client.
Install the Enigmail add-on for Thunderbird.
Install the TorBirdy plugin for the Thunderbird email desktop client.
Create an email account anonymously with a suitable provider via Tor Browser.
Setup the new email account: Thunderbird account settings, install necessary extensions (add-ons), and enforce connections to the email provider's Onion Service.
Create an OpenPGP encryption key pair and revocation certificate using the Enigmail Setup Wizard.
Encrypt and store the revocation certificate securely.
Configure Thunderbird preferences for greater security and anonymity.
Configure additional OpenPGP preferences via Enigmail.
Key management: import GPG public keys.
Export the public key to a GPG key server (optional).
Prepare an email signature with the public GPG key ID and fingerprint (optional).
Compose and send a test encrypted email to vfemail.net
Open an encrypted email received in Thunderbird.
Warnings
[
edit
]
Operational security is imperative to maintain the integrity of properly encrypted email. Consider the following scenarios which would allow an adversary access to the plaintext or other metadata that might help deanonymize a user:
Even if all email sent to a recipient is encrypted, if the recipient fails to encrypt the email response, then adversaries will be able to read the message and likely a quote of the original one sent.
The names of email recipients cannot be encrypted and are therefore visible to adversaries. However, the subject line and references email header are now encrypted as of TorBirdy v2.3 and above - although disabled in the following configuration.
Glossary
[
edit
]
Terms that are commonly used in reference to email encryption are outlined below.
Table: Email Encryption Terms [8]
| Term | Description |
| --- | --- |
| Key Pair | A pair of of asymmetric keys, commonly known as public and private keys. |
| Public Key | The half of a key pair that is distributed publicly and used for encrypting. |
| Private Key | The half of a key pair that is kept secret, and is used for decryption. |
| Key Server | A server or website used for the distribution and verification of public keys. |
| Integrity | A verification that the enclosed contents have not been tampered with in transit. |
| Confidentiality | A verification that the enclosed contents are unreadable, except for the intended recipient. |
| Authentication | A verification that the person who is sending / signing is who they say they are. |
| Non-repudiation | Assurance that nobody, including the author, can dispute the origin of the message itself. |
| Asymmetric Keys | Commonly referred to as a 'keypair'. It is two seperate keys: one public, one private. |
| Symmetric Keys | Symmetric encryption depends on using a password to encrypt the single key used for both encryption and decryption. |
Install the Thunderbird Email Client
[
edit
]
For users that would like to learn more about Thunderbird refer to the official support page [archive]. However, modifications should not be made to Thunderbird unless you know what you are doing.
The Thunderbird email client can be installed from the konsole using APT secure package manager.
In Whonix-Workstation ™ (whonix-ws-14 TemplateVM Qubes-Whonix ™) konsole, run.
Note: If the following output appears Thunderbird is already installed and no further action is needed.
Reading package lists... Done
Building dependency tree       
Reading state information... Done
thunderbird is already the newest version.

Install Enigmail Add-on for Thunderbird
[
edit
]
Enigmail provides Thunderbird users with access to the authentication and encryption features provided by GnuPG [archive]. For a full listing of features and and configuration options see the official Enigmail Documentation [archive].
Enigmail add-on can be installed from the konsole using APT secure package manager.
In Whonix-Workstation ™ (whonix-ws-14 TemplateVM Qubes-Whonix ™) konsole, run.
Note: If the following output appears Enigmail is already installed and no further action is needed.
Reading package lists... Done
Building dependency tree       
Reading state information... Done
enigmail is already the newest version.

Install the Torbirdy Plugin in Thunderbird
[
edit
]
Users who want to learn more about TorBirdy should refer to the official wiki documentation [archive]. A host of additional preferences [archive] can be optionally configured.
The following instructions install the latest available version of TorBirdy from The Tor Project so manual changes to the display character set and key server options are not required. Users who prefer the version available from Debian stable can instead install it from the command line and make necessary manual adjustments. [11]
Tor Project Download
[
edit
]
Debian Stable Download
[
edit
]
Create a New Email Account with Tor Browser
[
edit
]
Choose an Appropriate Email Provider
[
edit
]
First and foremost, there are multiple email providers that users can choose from. For the purpose of this tutorial, VFEmail (vfemail.net) is used as an example. This is not an endorsement for VFEmail, nor are they necessarily the most secure or private email provider available. Refer to the list of Onion Service Providers for possible alternatives.
At the time of writing, VFEmail is one of the few free and reliable email providers offering POP3 email access through an .onion address, which does not require additional verification details to register an account. For more details regarding the features and offerings of VFEmail, visit https://344c6kbnjnljjzlz.onion/faq.php [archive]. If used properly with GPG encryption, VFEmail's onion email service will provide the user with strong anonymity and privacy.
If problems are experienced with VFEmail, refer to the list of providers [archive] recommended by The Tor Project, Whonix ™ and JonDonym [archive].
Anonymous Registration
[
edit
]
It is critical to create a new email account anonymously with Tor Browser. In Whonix-Workstation ™ (Qubes-Whonix ™: anon-whonix), launch Tor Browser via the icon on the toolbar (Non-Qubes-Whonix ™) or via the Qube Manager (or widget).
When Tor Browser opens, type.
Into the URL bar to nagivate to the VFEmail Onion Service web page.
Figure: VFEmail Onion Service

Add SSL Certificate / Security Exceptions
[
edit
]
Add an SSL certificate exception for the VFEmail onion service. Tor Browser will warn that the web page "connection is not secure." This is expected. The warning arises because the SSL certificate received is from vfemail.net, but the domain the user is connected to is 344c6kbnjnljjzlz.onion
Select "Advanced" → Select "add exception"
Figure: SSL Certificate Exception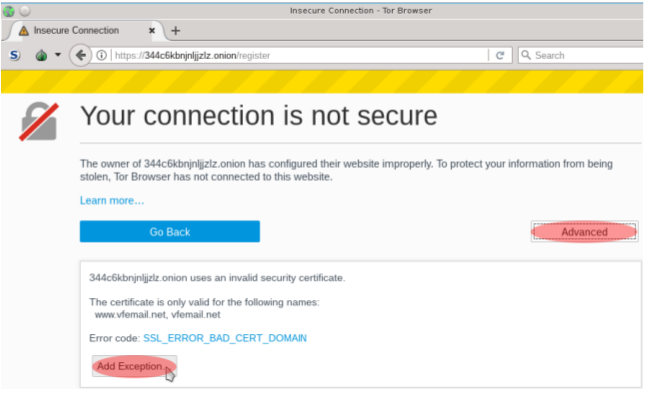 Next, add a security exception for VFEmail.
A window prompting the user to "add security exception" will appear. Click on the "Confirm Security Exception" button.
Figure: Add a Security Exception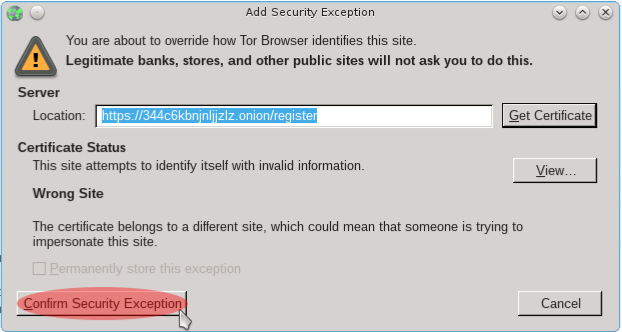 Finalize Registration
[
edit
]
Setup the New Email Account
[
edit
]
Thunderbird First Run
[
edit
]
Install and Configure TorBirdy
[
edit
]
Thunderbird Second Run
[
edit
]
Configure the Thunderbird Email Account
[
edit
]
Create an OpenPGP Key Pair and Revocation Certificate
[
edit
]
There are two methods for creating an OpenPGP key pair and revocation certificate - using either the Enigmail Setup Wizard, or manually creating them from the command line. The easier Enigmail method is outlined below, but the manual creation of stronger keys from the command line is recommended for advanced users or those at high risk.
Launch Enigmail Setup Wizard
[
edit
]
To start the Enigmail Setup Wizard, after returning to the main Thunderbird window, click the "hamburger" icon that has the 3 horizontal bars towards the upper right corner.
Then, hover the mouse over "Preferences" and click "Menu Bar" when the next menu appears.
Figure: Menu Bar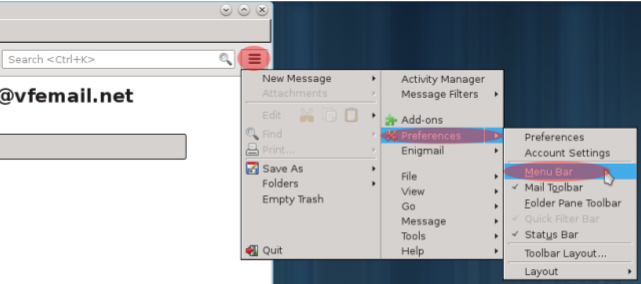 A menu bar will now appear towards the top of the Thunderbird window. In the menu bar, click "Enigmail" and then click "Setup Wizard."
Figure: Enigmail Setup Wizard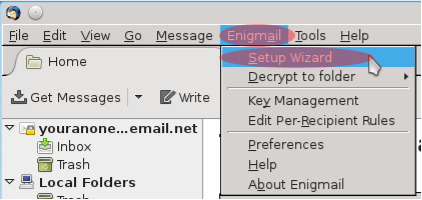 Create an OpenPGP Key Pair
[
edit
]
Create a Revocation Certificate
[
edit
]
After Enigmail has finished creating the new GPG key pair, click the "Create Revocation Certificate" button.
Figure: Create a Revocation Certificate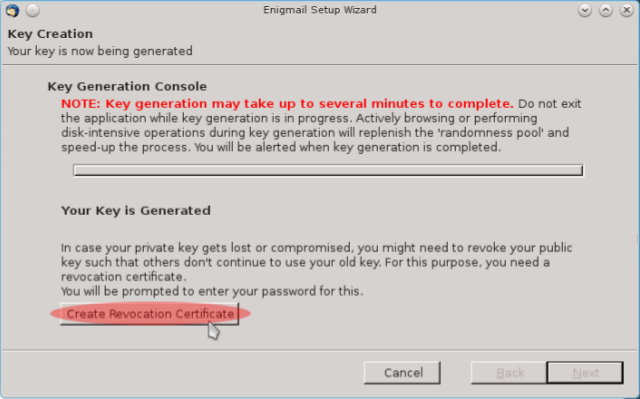 A prompt will now appear to enter the passphrase created in the last step. Paste the GPG passphrase from KeePassXC (or enter it manually) into the "Passphrase" field and click the "OK" button.
Figure: Enter the GPG Passphrase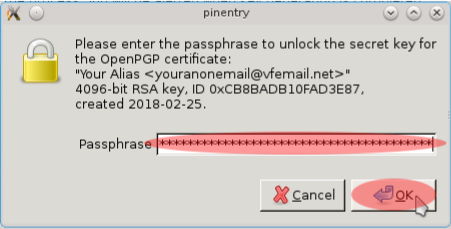 Store the Revocation Certificate
[
edit
]
Encrypt the Revocation Certificate
[
edit
]
The revocation certificate will now be encrypted and stored in the persistent storage directory. The GPG revocation certificate can be used to revoke the public encryption key that is added to key servers, even if access to the GPG secret key is lost or the password is forgotten.
If an attacker accesses the GPG revocation certificate, they can revoke the keys. Encrypting the GPG revocation certificate with a passphrase that is easily remembered will protect against this action.
Final Thunderbird Preferences and Settings
[
edit
]
General Thunderbird Preferences
[
edit
]
Additional Settings
[
edit
]
Some further changes are required that are unaddressed by Enigmail Setup Wizard.
Enigmail Key Management
[
edit
]
Search for and Import GPG Keys
[
edit
]
Always remember that anyone can add a GPG public key to a key server and claim to belong to a certain email account. Consider the following attack vector:
An attacker is monitoring an email account through surveillance.
An encryption key is mistakenly used that was created to falsely correspond to the intended recipient of communications.
The attacker is now able to read the user's email.
Import Public Keys from Websites
[
edit
]
On occasion, the GPG public key of an intended email recipient is not located on a key server, but a public key block is hosted on a website.
To import these keys into Thunderbird:
Copy the public key from the website to the clipboard.
Navigate to the Enigmail key management program: Enigmail → Key Management
Import the keys: Edit → Import Keys from Clipboard
Alternative Key Server Methods
[
edit
]
There are two alternatives for interacting with key servers:
KGpg: To fetch contacts' GPG keys from the key server, open KGpg and navigate to Key Server Dialog. Search for relevant email addresses and import the keys.
GPG command line: Searching, fetching and importing keys from key servers from the command line [archive] is relatively simple.
Note: Previously, Enigmail's keyserver interaction features did not work out of the box. [24] [25] With these instructions, it should no longer be necessary to apply manual settings following a restart of Thunderbird in order to interact with key servers. [26] [27] [28] [29]
Export the Public Key to a GPG Server
[
edit
]
Public GPG Key Signature Block
[
edit
]
Locate the Key Fingerprint
[
edit
]
The following steps configure Thunderbird to inform people about the public GPG key by embedding it in the email signature.
Create a PGP Email Signature
[
edit
]
A signature is now created that will be included in all outgoing mail, which contains both the GPG public key ID and the GPG public key fingerprint. In the next window that appears:
Click in the text field located underneath "Signature text."
Paste the contents of the clipboard on to two separate lines in the text field.
On the first line:

Type "GPG Public Key:" before the fingerprint that was just pasted.
Delete all but the last 16 characters of the fingerprint from this line. [30]
Type "0x" (that is the numeral zero) directly in front of the remaining characters. [31]

On the second line, type "Fingerprint:" in front of the characters pasted there. This will help enable people who download the GPG public key to verify that it is they key you wish them to use. When finished, click the "OK" button.
Figure: PGP Email Signature Block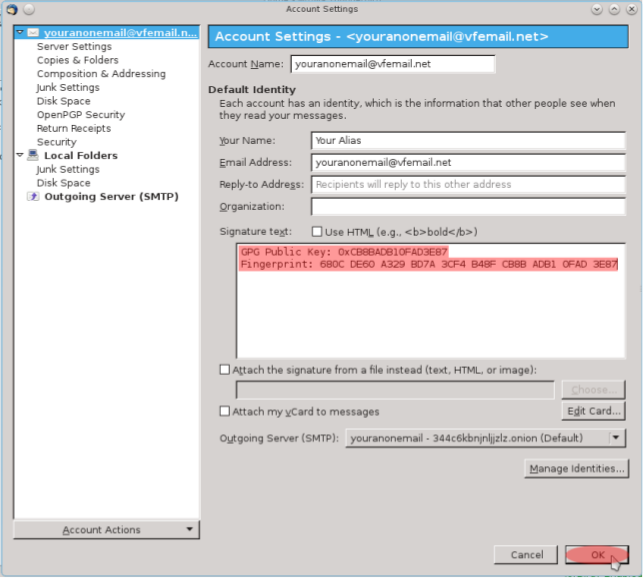 Compose and Send Encrypted Email
[
edit
]
The first section will test the correct sending of the first encrypted email to anonguide@vfemail.net with Enigmail.
The second section outlines using KGpg instead of Enigmail. This is for users who require a higher level of security for importing private keys and creating ciphertext which can be sent via Thunderbird. [32] [33] [34] [35]
Using Enigmail
[
edit
]
Using KGpg
[
edit
]
Open KGpg and select the recipient key. If selecting more than one key, press CTRL while clicking.
Navigate to: File → Open Editor and write the message.
Encrypt the message to ciphertext by clicking on the Encrypt lock icon. Choose your private key in the prompt that appears and click OK.
Copy the ciphertext into Thunderbird and send it as per normal procedures. Do not include subject lines since they are not encrypted.
Download and Read Encrypted Email
[
edit
]
In the near future, the user will want to check if anyone has sent email messages or if a response was received to the test email composed in the previous section.
Final Warnings
[
edit
]
If all steps have been successfully completed then you now have an anonymous email account paired with strong encryption.
It should be emphasized this wiki entry is not a substitute for an all-inclusive tutorial on the safest way to use GPG/PGP encryption, however it provides a solid foundation for fundamental practices. Numerous advanced resources and expert opinions exist on the Internet, and these can provide additional tips that might better address a user's perceived threat model and circumstances. [37] At a minimum, it is recommended to review the Safe Email Principles section, along with additional learning resources.
Finally, always heed the following warnings regarding email:
E-mail is a very insecure means of communication where anonymity is concerned. A lot of metadata is leaked with e-mail, so it should be used sparingly and only when strictly necessary.
Do not contact people you know in real life at non-anonymous email addresses with the email account that was created here. Always separate real world identities from online identities used with Whonix ™.
Be circumspect about sharing personal information in email! Encrypted email does not protect against the email recipient storing personal emails in an unencrypted format. Nor does encryption protect against an email recipient maliciously using personal information in order to exploit you.
Never include sensitive information in an email subject line, even if the email is encrypted! Subject headers in email are not encrypted in this configuration, despite the fact the rest of the message is.
If an email is sent to a recipient without encryption, assume it can be read by anyone!
Utilize the Tor Onion Service (.onion domain) whenever it is made available by the email provider. After first confirming the domain is controlled by the email provider, it will afford greater protection than a clearnet address.
Further Reading
[
edit
]
Interested readers can refer to the following additional resources on GPG, Enigmail, KGpg, and safe email practices:
License
[
edit
]
This wiki entry is based on chapter 4.5 of A Beginner Friendly Comprehensive Guide to Installing and Using a Safer Anonymous Operating System, which can be found here [archive]. This material has been used with the author's permission. [1]
Footnotes
[
edit
]
---
---
https [archive] | (forcing) onion [archive]
Follow:







This is a wiki. Want to improve this page? Help is welcome and volunteer contributions are happily considered! Read, understand and agree to Conditions for Contributions to Whonix ™, then Edit! Edits are held for moderation.
Copyright (C) 2012 - 2019 ENCRYPTED SUPPORT LP. Whonix ™ is a trademark. Whonix ™ is a licensee [archive] of the Open Invention Network [archive]. Unless otherwise noted, the content of this page is copyrighted and licensed under the same Freedom Software license as Whonix ™ itself. (Why?)
Whonix ™ is a derivative of and not affiliated with Debian [archive]. Debian is a registered trademark [archive] owned by Software in the Public Interest, Inc [archive].
Whonix ™ is produced independently from the Tor® [archive] anonymity software and carries no guarantee from The Tor Project [archive] about quality, suitability or anything else.
By using our website, you acknowledge that you have read, understood and agreed to our Privacy Policy, Cookie Policy, Terms of Service, and E-Sign Consent. Whonix ™ is provided by ENCRYPTED SUPPORT LP. See Imprint.