ExoneraTor
From Whonix
ExoneraTor is a website [archive] hosted by The Tor Project [archive] that indicates whether a given IP address was a Tor relay on a specified date. The homepage states:
The ExoneraTor service maintains a database of IP addresses that have been part of the Tor network. It answers the question whether there was a Tor relay running on a given IP address on a given date. ExoneraTor may store more than one IP address per relay if relays use a different IP address for exiting to the Internet than for registering in the Tor network, and it stores whether a relay permitted transit of Tor traffic to the open Internet at that time.
Figure: ExoneraTor: Tor Relay Check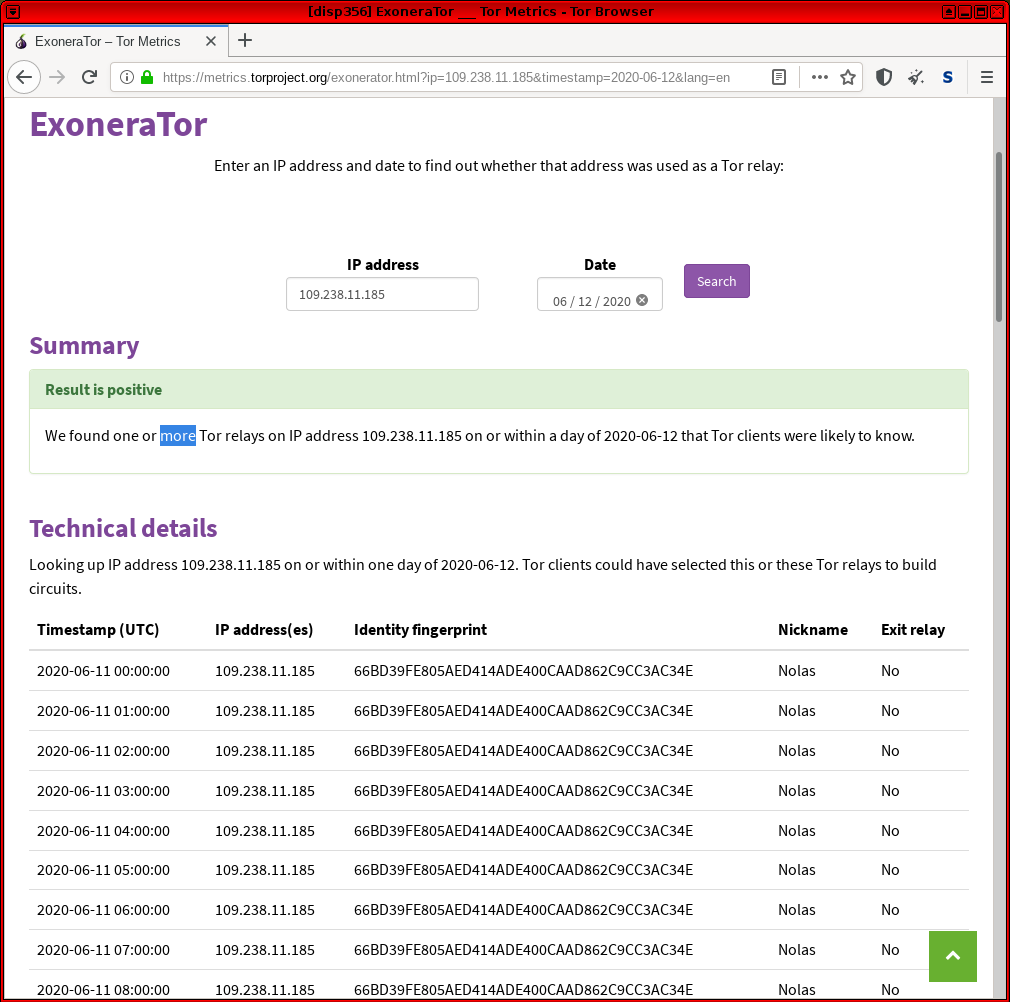 ---
---
---
Search engines: YaCy | Qwant | ecosia | MetaGer | peekier | Whonix ™ Wiki
---

Join us in testing our new AppArmor profiles for improved security! ( forum discussion)
This is a wiki. Want to improve this page? Help is welcome and volunteer contributions are happily considered! Read, understand and agree to Conditions for Contributions to Whonix ™, then Edit! Edits are held for moderation. Policy of Whonix Website and Whonix Chat and Policy On Nonfreedom Software applies.
Copyright (C) 2012 - 2021 ENCRYPTED SUPPORT LP. Whonix ™ is a trademark. Whonix ™ is a licensee [archive] of the Open Invention Network [archive]. Unless otherwise noted, the content of this page is copyrighted and licensed under the same Freedom Software license as Whonix ™ itself. (Why?)
The personal opinions of moderators or contributors to the Whonix ™ project do not represent the project as a whole.
Whonix ™ is a derivative of and not affiliated with Debian [archive]. Debian is a registered trademark [archive] owned by Software in the Public Interest, Inc [archive].
Whonix ™ is produced independently from the Tor® [archive] anonymity software and carries no guarantee from The Tor Project [archive] about quality, suitability or anything else.
By using our website, you acknowledge that you have read, understood and agreed to our Privacy Policy, Cookie Policy, Terms of Service, and E-Sign Consent. Whonix ™ is provided by ENCRYPTED SUPPORT LP. See Imprint, Contact.