Whonix™ APT Repository
Jump to navigation
Jump to search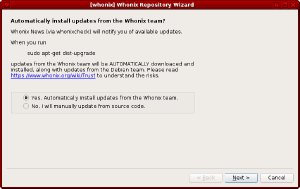 Whonix stable / testers / developers APT Repository. How to change from one suite to another? How to disable Whonix APT Repository?
Whonix APT Repository Overview
[
edit
]
Whonix currently provides four repository choices:
Whonix stable APT repository: Recommended for most users. The production level packages focus on providing the most reliable Whonix experience. [1]
Whonix stable-proposed-updates APT repository: After testing by a wider audience, these packages migrate to the stable repository. [2]
Whonix testers APT repository: Recommended for testers, since it is only briefly tested by Whonix developers. It could break APT during an upgrade, requiring terminal commands to rectify the problem. [2]
Whonix developers APT repository: As above, except it includes untested changes. These changes may eventually migrate to the testers repository there is reasonable certainty that these changes will not break the update system. It is not recommended, unless the user is in touch with the development team.
Due to the Whonix design, a user's security is unlikely to be materially affected by preferring the "beta" (stable-proposed-updates) or "alpha" (testers) repositories over the default stable one. [3]
Change Whonix APT Repository
[
edit
]
It is easy for users to switch between Whonix repositories.
Qubes-Whonix™

[

edit

]
Afterwards, the following window will appear.
Figure: Auto-update Configuration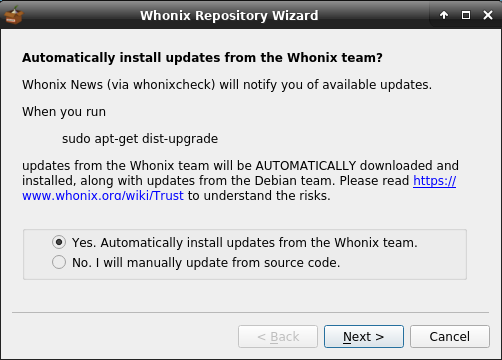 Figure: Repository Selection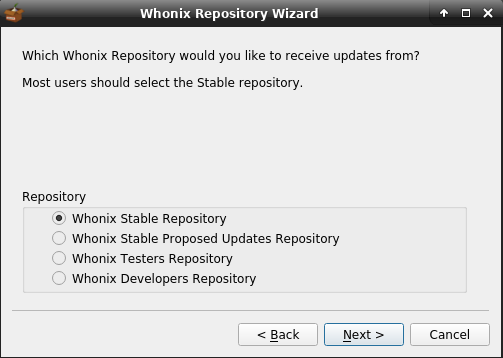 Command Line Interface
[
edit
]
To use the repository, follow the usual update instructions.
Disable Whonix APT Repository
[
edit
]
For Trust reasons some users may prefer not to use Whonix APT Repository. In that case, it is necessary to update Debian packages in Whonix from source code, which is inconvenient.
All Default-Download-Version Whonix variants have the Whonix APT repository enabled. It can be disabled via the GUI or in a terminal with the Derivative Repository Tool.
Table: Whonix APT Repository Disabling
Platform / Method
Instructions
Whonix Built from Source Code
If Whonix is built from source code, Whonix APT Repository is not added by default. The only exception is if users opt in using a build configuration. It is also possible to verify that it is already disabled.
Whonix Default-Download-Version: GUI

Qubes-Whonix: Qubes App Launcher (blue/grey "Q") → Template: whonix → Repository → "No, I will manually update from source code."

Whonix: Start Menu → Applications → System → Whonix Repository → "No, I will manually update from source code."

Whonix Default-Download-Version: Terminal
To disable it in a terminal, run.


sudo repository-dist --disable
Users can optionally verify Whonix APT repository is disabled after this procedure.
Verify Whonix APT Repository is Disabled
[
edit
]
To check the Whonix APT repository was successfully disabled, run the following tests.
Further Reading
[
edit
]
Footnotes
[
edit
]