Installation of Whonix ™ on a USB
From Whonix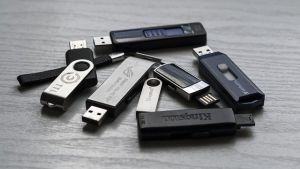 Current Situation
[
edit
]
Yes, Whonix ™ can be used on a USB.
Install it on USB.
Install a supported virtualizer.
Finally install Whonix ™.
At this time, Whonix ™ does not provide a USB creator / image.
There are a number of online guides explaining how to install Linux on a USB [archive]. These instructions can be followed to create a live Whonix ™ USB, with the exception that both a supported virtualizer and Whonix ™ must also be installed on the external media.
If it is actually booting into non-persistent live boot is what you're interested in, look into live mode.
Specifically useful as a host operating system on USB is Debian or Kicksecure in combination with the grub-live software package which makes it possible to boot the host operating system into Host Live Mode.
Advantages
[
edit
]
A higher level of security is attained by installing the host operating system(s) required for Whonix ™ on a dedicated, (encrypted), external disk(s) like a USB flash drive, FireWire or eSATA device:
Using external media reduces the risk of other operating system(s) infecting the Whonix ™ host operating system.
When Whonix ™ disk(s) are not in use, they can either be removed or hidden.
Related
[
edit
]
Whonix-Host Operating System Live ISO, Whonix-Host Installer. Community contributions are most welcome.
Footnotes
[
edit
]
---
---
---
Search engines: YaCy | Qwant | ecosia | MetaGer | peekier | Whonix ™ Wiki
---
This is a wiki. Want to improve this page? Help is welcome and volunteer contributions are happily considered! Read, understand and agree to Conditions for Contributions to Whonix ™, then Edit! Edits are held for moderation. Policy of Whonix Website and Whonix Chat and Policy On Nonfreedom Software applies.
Copyright (C) software / wiki. Whonix ™ is Freedom Software / Open Source. (Why?) Whonix ™ is a trademark. Whonix ™ is a licensee of the Open Invention Network.
The personal opinions of moderators or contributors to the Whonix ™ project do not represent the project as a whole.
Whonix ™ is a derivative of and not affiliated with Debian. Debian is a registered trademark owned by Software in the Public Interest, Inc.
Whonix ™ is produced independently from the Tor ® anonymity software and carries no guarantee from The Tor Project about quality, suitability or anything else.
By using our website, you acknowledge that you have read, understood and agreed to our Privacy Policy, Cookie Policy, Terms of Service, and E-Sign Consent. Whonix ™ is provided by ENCRYPTED SUPPORT LP. See Imprint, Contact.