Donate to Whonix using cryptocurrency
Jump to navigation
Jump to search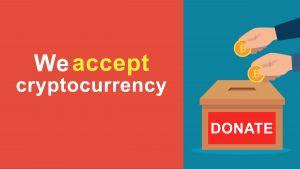 Bitcoin (BTC), Monero (XMR), Ethereum (ETH) or Token (USDC, USDT, DAI)
1. Select an accepted cryptocurrency from the following table.
2. Select an option to get the payment address.
Three options. Choose one.
A) Copy the address by pressing the copy button, paste into your wallet. (Recommended.)
B) Click the QR code to enlarge, scan with your wallet, pay.
C) Click the payment link. This works only with wallets which support this functionality.
3. Donate.
Logo
Name
Code
QR
Address
Payment

Bitcoin
BTC

3LspZMk4p7ECc4Ugd6DKwSTgqyxn41KG3B

bitcoin-link
Monero
XMR

84ZZSsqyh5niztCgxmWAejDLu9eDerWo4Wsx8woEhDGpdKP3BWPtqenNjKuv8vojrB968U3hqYTKgLGt2zEcGopX1qaEPew

monero-link
Ethereum
ETH

0x665B0FF55ee44F0d765dDd88A32Aa3b912936E2e

ethereum-link
USD Coin
USDC
ETH (ERC-20) token can be sent to the same Ethereum (ETH) address as above.
Tether
USDT
Dai
DAI
See Also
[
edit
]