Platform-specific Desktop Tips
All Platforms
[
edit
]
Shut Down Whonix-Gateway (sys-whonix)
[
edit
]
To shut down Whonix-Gateway (sys-whonix), open a terminal and run.
Alternatively, use the menu option:
Disable Terminal Emulator Banner
[
edit
]
This is the banner shown when you open a terminal.
Welcome to Whonix!
https://www.whonix.org

The programs included with the Whonix GNU/Linux system are free software;
the exact distribution terms for each program are described in the
individual files in /usr/share/doc/*/copyright.

Whonix GNU/Linux comes with ABSOLUTELY NO WARRANTY, to the extent
permitted by applicable law. Whonix is a derivative of Debian GNU/Linux.

Whonix is based on Tor. Whonix is produced independently from the
Tor (r) anonymity software and carries no guarantee from The Tor Project
about quality, suitability or anything else.

Whonix is experimental software by means of concept and design.
Do not rely on it for strong anonymity.

Type: "whonix" <enter> for help.
uwt INFO: Stream isolation for some applications enabled. uwt / torsocks will be automatically prepended to some commands. Wha
uwt INFO: https://www.whonix.org/wiki/Stream_Isolation/Easy

If you want to disable it.
1) Open a terminal.
If you are using Qubes-Whonix, complete the following steps.
Qubes App Launcher (blue/grey "Q") -> Whonix-Workstation AppVM (commonly named anon-whonix) -> Konsole
If you are using a graphical Whonix with KDE, run.
Start Menu -> Applications -> System -> Konsole
If you are using a graphical Whonix with XFCE, run.
Start Menu -> Xfce Terminal
2) Run the following command.
cp /etc/skel/.bashrc.whonix-orig ~/.bashrc
3) The process is now complete.
See also #Disable Virtual Console Banner.
Virtual Consoles
[
edit
]
Virtual consoles is a feature inherited from Debian GNU/Linux. It is noted here because not many users are aware of it. The Debian (not Whonix) feature is activated as follows:
For a text console: Press Alt + Crtl + F1
For additional text consoles: Press Alt + Crtl + F2 or F3 and so on.
For a graphical console: Press Alt + Crtl + F7
The desired virtual console key combination is selected from under the Send Key option in a VM's graphic window.
In dom0, run: sudo xl console vm-name. Replace "vm-name" with the name of the actual VM, for example.
sudo xl console sys-whonix
VirtualBox
[
edit
]
When the user is inside VirtualBox, the Alt + Ctrl keys are already registered by the host operating system.
Instead of the Alt + Ctrl combination, the VirtualBox Host Key [1] is used. This means the user should press in combination Host Key + F1 (F2,...) for a text console(s), and Host Key + F7 for a graphical console inside VirtualBox.
Disable Virtual Console Banner
[
edit
]
Similar to #Disable Terminal Emulator Banner.
1) Open a #Virtual Consoles.
2) Run the following command to restore original bashrc.
cp /etc/skel/.bashrc.whonix-orig ~/.bashrc
Untested. Please leave feedback if this worked for you!
3) The process is now complete.
Non-Qubes-Whonix
[
edit
]
XFCE Scaling
[
edit
]
source: [3]
Settings Manager -> Appearance -> Fonts -> DPI -> Increase
Window Manager Style
[
edit
]
Settings Manager -> Window Manager -> Style -> Theme -> Default-hdpi or Default-xhdpi
gtk2 Menus and Buttons
[
edit
]
Settings Manager -> Settings Editor -> xsettings -> Gtk -> IconSizes -> in row Value -> add the following line.
gtk-large-toolbar=96,96:gtk-small-toolbar=64,64:gtk-menu=64,64:gtk-dialog=96,96:gtk-button=64,64:gtk-dnd=64,64
Task Bar Size
[
edit
]
right-click on empty space in task bar -> Panel -> Panel Preferences -> Row Size (Pixels) -> move slider
System Tray Icon Size
[
edit
]
To enlarge icons in system tray.
right-click on system tray (aim for empty space / top pixels / bottom pixels, so that you will not activate icons themselves) -> Properties -> set "Maximum icon size" to 32, 48 or 64.
RAM Adjusted Desktop Starter
[
edit
]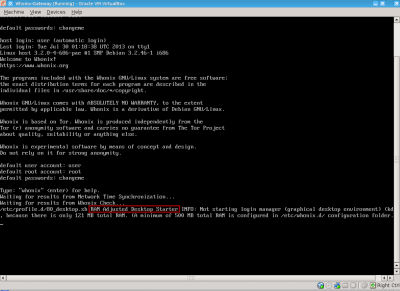 When booting up, a prompt will appear offering to prevent XFCE from starting. Users can also manually press Ctrl + C for the same effect.
By default, Whonix-Gateway is configured with 768 MB virtual RAM. This can be reduced on systems with low available resources.
If total RAM is more than 512 MB, the default desktop environment (XFCE) is started.
If total RAM is less than 512 MB (for example, the minimum 256 MB RAM requirement), XFCE (lightdm) is not started. [5]
Users with low RAM resources should find this convenient because Whonix-Gateway RAM can be reduced to 256 MB and still function. Further, if something needs configuring or checking, 512 MB RAM can be assigned to automatically boot into the graphical XFCE desktop. Additional settings are available in /etc/rads.d/ to configure this feature: additional RAM can be added (but still not choosing to boot into a desktop environment), different display managers can be used and so on.
For more information, see RAM Adjusted Desktop Starter.
Show Desktop
[
edit
]
In KDE 4, dashboard view replaces the old "Show Desktop" feature. Press Ctrl + F12 to show the dashboard view. This keyboard shortcut can be changed in system settings.
System Settings -> Shortcuts and Gestures -> Global Keyboard Shortcuts -> KDE component = Plasma Desktop Shell -> Show Dashboard
For more information about the KDE 4 desktop, please see: https://www.kde.org/announcements/4.0/desktop.php
Single vs Double-click
[
edit
]
By default, launching desktop icons in KDE uses a single-click, instead of a double-click method. Users can change the default launching behavior to a double-click via the following steps.
KDE -> Start menu button -> Applications -> Settings -> System Settings -> input devices -> mouse -> double click -> apply
The procedure is now complete.
Use Full-screen Mode
[
edit
]
It is recommended to work in full-screen; this feature is also inherited from VirtualBox. To activate and deactivate full-screen mode, press the Host Key [1] + F. [6]
Full-screen mode leads to the Whonix (and Debian) default resolution and color depth of 1024x768x24. Having a common value for these identifiers reduces the fingerprinting risk to the user. Full-screen mode also helps to prevent users from accidentally launching applications on the host (such as a clearnet browser), instead of within Whonix.
Whonixcheck Writing to tty1
[
edit
]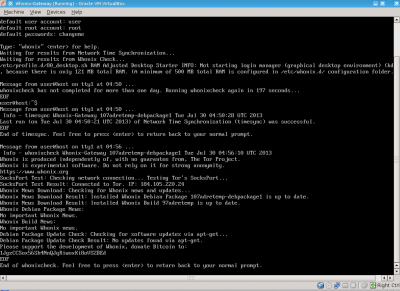 It is difficult to keep users updated with system status information when they are using a terminal instead of a graphical desktop environment. Therefore, the Whonix timesync and whonixcheck applications will very occasionally provide status messages, even if the user is logged into the terminal tty1 and sees a command prompt.
This feature can be useful, for example when the user has configured the Whonix-Gateway to their liking (if this was required at all) and successful status messages are posted about the system. On the other hand, status message output can be a hindrance, particularly if the user is doing something like editing a configuration file when it appears. If the user needs to complete activities without interruption, it is advisable to log into a tty other than tty1, for example tty2:
Default-Download-Version users can use the VirtualBox Host Key method: Right Ctrl + F2. [7]
Physical isolation users can use the standard feature which comes with Debian: Ctrl + Alt + F2.
Qubes-Whonix
[
edit
]
Avoid VM Full Screen Mode
[
edit
]
It is unrecommended to allow Qubes-Whonix or other VMs to completely "own" the full screen. Overriding Qubes GUI virtualization daemon restrictions means users will not see colored decorations drawn by each VM window. In this case, a malicious application might not actually release the full screen (while it appears normal), or the full desktop may be emulated so users are tricked into entering sensitive information into false "trusted" domains. [8]
Footnotes
[
edit
]
↑ 1.0 1.1 VirtualBox -> Global Settings -> Input -> Host Key. The current Host Key is visible in the bottom right corner of VirtualBox.
↑ 3) Run the following command.
↑

"gtk-dnd" is for the icons during drag'n'drop, the others are quite self-explanatory. You can use any value your icon theme supports.

↑

Whonix-Gateway can work with as little as 128 MB RAM, but resource intensive operations like kernel package upgrades that rebuild the initrd leave the virtual machine in a frozen state.

↑ The normal VirtualBox default is Right Ctrl + F.
↑ The right Ctrl key is the VirtualBox default.
---
No user support in comments. See Support.
Comments will be deleted after some time. Specifically after comments have been addressed in form of wiki enhancements. See Wiki Comments Policy.
---
---
This is a wiki. Want to improve this page? Help is welcome and volunteer contributions are happily considered! See Conditions for Contributions to Whonix, then Edit! IP addresses are scrubbed, but editing over Tor is recommended. Edits are held for moderation.
Whonix is a licensee of the Open Invention Network. Unless otherwise noted, the content of this page is copyrighted and licensed under the same Libre Software license as Whonix itself. (Why?)
Whonix is provided by ENCRYPTED SUPPORT LP. See Imprint.