Stay Tuned
Introduction
[
edit
]
Reading the latest news is important to stay on top of latest developments. Should security vulnerabilities ever be found in Whonix, any major issues (such as with the updater) happen or should an improved version be released, you should be informed.
Whonix News Blogs
[
edit
]
For your convenience, there are multiple choices to get news. Choose at your preference.
Whonix Important Blog - Most important stuff only. Security vulnerabilities and new stable versions only. For people with very limited time and interest in Whonix development and news.
Whonix Feature Blog - Includes everything from Whonix Important Blog. Also testers-only and developers versions are announced. Has a relaxed posting policy. Also blog posts about updated articles, new features, future features, development, call for testing, general project thoughts and so on will be published.
Other choices. [1]
It's recommended at least to read Whonix Important Blog if you are in a hurry. Have a look into Whonix Feature Blog if you are generally interested to learn about anonymity/privacy/security related things or to see what's going on with Whonix.
Operating System Updates
[
edit
]
You should regularly check for operating system updates on your host operating system, on Whonix-Workstation and on Whonix-Gateway as highly recommended in the Security Guide.
Tor Browser
[
edit
]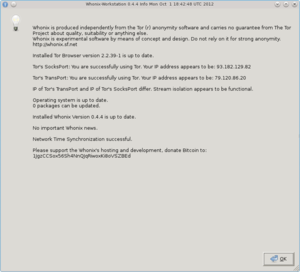 Tor Browser's built in update check mechanism also works in Whonix. Use it.
For additional information about Tor Browser updates see Tor Browser. Additionally it might also be wise to subscribe to https://blog.torproject.org for news.
Whonix Version Check and Whonix News
[
edit
]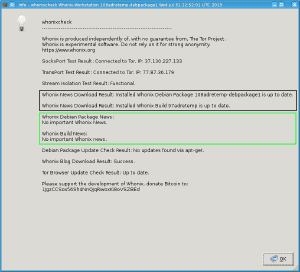 Furthermore you will be automatically notified about new Whonix versions and about the most important Whonix News updates [2] by Whonixcheck.
By default, Whonixcheck runs automatically from time to time whenever the user starts up a Whonix-Workstation (commonly called whonix-ws). When run, Whonixcheck will verify that the Whonix system is up-to-date and that everything is in proper working order.
Even though Whonixcheck should run automatically from time to time (i.e. not every time the user starts a Whonix-Workstation), you may want to manually run Whonixcheck just to make sure that everything is in order. To do that, follow the directions below
If you are using Qubes-Whonix, complete the following steps [3]:

Qubes App Launcher (blue/grey "Q") -> click on the Whonix VM you want to check -> whonixcheck / System Check

If you are using a graphical Whonix, complete the following steps:

Start Menu -> System -> whonixcheck

If you are using a terminal-only Whonix, complete the following steps:
Whonixcheck will take a few minutes to run. Assuming everything is good, you should get a print out where each heading "INFO" is in green (not red). See example printout below:
Example of Whonixcheck printout
[
edit
]

INFO: SocksPort Test Result: Connected to Tor. IP: 146.10.104.240 
INFO: TransPort Test Result: Connected to Tor. IP: 91.89.96.88 
INFO: Stream Isolation Test Result: Functional. 
INFO: Whonix News Result:
√ Up to date: whonix-workstation-packages-dependencies 2.5-1
√ Up to date: Whonix Build Version: 11.0.0.3.0 
INFO: Debian Package Update Check Result: No updates found via apt-get. 
INFO: Whonix APT Repository: Enabled. When the Whonix team releases JESSIE updates, they will be AUTOMATICALLY installed (when you run apt-get dist-upgrade) along with updated packages from the Debian team. Please read https://www.whonix.org/wiki/Trust to understand the risk. If you want to change this, use: 
Start menu -> Applications -> System -> Whonix Repository 
INFO: Tor Browser Update Check Result: Up to date. 
INFO: Please consider making a small reoccurring donation. See: https://www.whonix.org/wiki/Donate

Tor Bootstrap
[
edit
]
Tor bootstrap refers to... It's "Tor connecting xx percent...", "Tor not connected", "Tor connected". That's all. It's not about "secure", "not secure", "anonymous", "not anonymous".
Social Media Profiles
[
edit
]
There are some Whonix Social Media Profiles, but please don't rely on them for getting Whonix News and please don't use them to contact Whonix developers. (See Contact for contact information.)
Because some people will do so even though it is not recommended, messages from the Whonix Feature Blog will be automatically mirrored to Whonix Twitter Profile, to Whonix Facebook Profile and to Whonix Google+ Profile.
If you won't get into trouble by letting others learn about Whonix, feel free to follow or like those profiles (with your anonymous account) as a little way to Contribute. You can share this page on: Twitter | Facebook | Google+.
Source Code
[
edit
]
In case you are interested in Whonix source code updates, subscribe to code changes.
Footnotes
[
edit
]
↑ Other choices.
↑

Such as when a version becomes unsupported, if manual action is required, if major features break, or if security vulnerabilities are found. The policy is to use Whonix News as rarely as possible.

↑


Qubes VM Manager -> right-click on the Whonix VM you want to check -> select "Run command in VM"


Type the following.

Then press.


<ENTER>


Type the following.

Then press.


<ENTER>

---
Random News:
Interested in becoming an author for the Whonix blog or writing about anonymity, privacy and security? Please get in touch!
---
Impressum
|
Datenschutz
|
Haftungsausschluss
https | (forcing) onion
Share: Twitter | Facebook | Google+
This is a wiki. Want to improve this page? Help is welcome and volunteer contributions are happily considered! See
Conditions for Contributions to Whonix
, then
Edit
! IP addresses are scrubbed, but editing over Tor is recommended. Edits are held for moderation. Whonix (
g+) is a
licensee
of the Open Invention Network. Unless otherwise noted above, the content of this page is
copyrighted
and licensed under the same Free (as in speech)
license
as Whonix itself.