Lantern: Alternative Censorship Circumvention Tool
Jump to navigation
Jump to search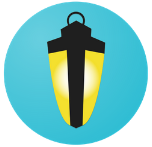 Alternative Censorship Circumvention. Lantern over Tor. Combining Whonix with Lantern. Connecting to Lantern before Tor.
User → Lantern → Tor → Internet
Possible alternative to Tor bridges.
Introduction
[
edit
]
Lantern

is a censorship circumvention tool which can provide an alternative to Tor bridges. The design is similar to a VPN and encrypts all of a user's data through their servers and then proxies blocked sites. Note that Lantern in isolation is not an anonymity tool because it is technically possible to spy on user activity under this model. Another downside is that bandwidth limits also exist for non-subscribers: [1]
Lantern is designed to provide you with fast unfettered access to information online. Lantern is secure and encrypts your connection to blocked sites, but it is not an anonymity tool, so if you need or would like to be anonymous online, please use Tor. Otherwise, Lantern will give you faster access to blocked sites. ... To keep our free version running, we implemented a bandwidth limitation of 500 MB/ month. When the bandwidth limit is reached, the connection is slowed down and Free users are prompted to upgrade to Lantern Pro.
After bandwidth limits are reached the connection slows down to approximately 20KB/s, making Lantern virtually unusable. In order to remove this restriction, users must pay for the 'Lantern Pro' service. [2] The available options mean any payment is likely traceable, but this is not necessarily any more 'damaging' to privacy and/or anonymity than connecting to Lantern in the first place. [3] Interested readers can learn more at the Lantern forums

and Q&A

.
Warning
[
edit
]
Whonix developer madaidan has expressed serious concerns about the Lantern software

:
There is limited documentation available describing how Lantern functions. Although it states it unblocks websites, this mechanism is undocumented. Further, the developer FAQ is empty.
Lantern developers state they are based in Los Angeles, but their GitHub repositories, Twitter accounts and the Terms of Service have a lot of Chinese text.
The primary GitHub repository has numerous stars and forks (even though it seems to be a small project) from what appears to be bot accounts, as many have no activity. The GitHub account also has hundreds of repositories that are completely irrelevant to Lantern.
Links are provided to a forum which does not even exist.
The privacy policy allows for logging of IP addresses, visited websites, device IDs, local files and much more; see footnote. [4]
The Wikipedia Lantern entry also notes: [5]
User information can be shared with various third parties, including advertisers.
Content blockers like uBlock Origin are ineffective in preventing data collection because Lantern operates at the TCP/IP stack layer.
Personally identifiable information may be subject to disclosure to governments in the country of operation.
In summary, Lantern is not recommended unless the user has limited other options for censorship circumvention.
Connecting to Lantern before Tor
[
edit
]
It is possible to configure Tor to use Lantern as a proxy to establish the following tunnel: User → Lantern → Tor → Internet
Before applying the following instructions, it is recommended to first read:
Footnotes
[
edit
]