Send Signal Messages over Tor with Whonix ™
Jump to navigation
Jump to search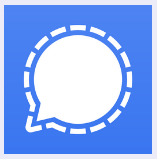 Anonymity Specific
[
edit
]
The mandatory linkage of the desktop software application with a phone number makes it very likely adversaries can easily link any 'anonymous' use of Signal in Whonix ™ with a user's real identity, even if a secondary phone number is used as a limited workaround. Notably, to date Signal has ignored user requests to enable registration with an email account as a possible alternative. For this reason alone, alternative options like Gajim and HexChat should be investigated instead; see Instant Messenger Chat for further information. Readers are of course free to ignore this advice -- see below for Whonix ™ instructions.

It is possible to install the standalone Signal Desktop application version

for Linux in Whonix-Workstation ™, and tunneling the application over the Tor network. However, this configuration is not recommended because although the traffic will be routed over the Tor network, Signal requires the user provide a phone number for verification. [1] See Phone Number Validation vs User Privacy.
Installation
[
edit
]
Community Support Only!:

Community Support Only means Whonix ™ developers are unlikely to provide free support for wiki chapters or pages with this tag. See Community Support for further information, including implications and possible alternatives.
Since Whonix ™ is based on Kicksecure ™, the user can follow the instructions on

Signal


on the Kicksecure ™ website.
See Also
[
edit
]
Footnotes
[
edit
]
↑

The number can be different form the device's SIM card; it can be a landline or VoIP number, so long as the user can receive the verification code and possesses a separate device to set up the software.