sdwdate: Secure Distributed Web Date
From Whonix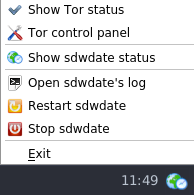 Introduction
[
edit
]
Time keeping is crucial for security, privacy, and anonymity. sdwdate is a Tor-friendly replacement for rdate [archive] and ntpdate [archive] that sets the system's clock by communicating via end-to-end encrypted TCP with Tor onion webservers. Chosen time providers are exclusively reputable sources (whistle-blowing and privacy-friendly onion sites) that are highly likely to be hosted on different hardware.
At random intervals, sdwdate connects to a variety of webservers and extracts the time stamps from http headers (see: RFC 2616 [archive]).
sdwdate vs ntp
[
edit
]
Table: sdwdate vs ntp Comparison
| | | |
| --- | --- | --- |
| | sdwdate [archive] | ntp |
| Written in memory-safe language | Yes | No |
| Distributed trust | Yes | No |
| Secure connection by default (authentication and encryption) | Yes | No |
| Gradual clock adjustments | Yes | Yes |
| Daemon | Yes | Yes |
| Functional over Tor [archive] | Yes | No [1] |
| Tor not required | No | Yes |
| Client, time fetcher | Yes | Yes |
| Server, time provider | No, not yet | Yes |
| Apparmor profile | Yes | Yes |
| Drop-in config folder | Yes | No |
| Proxy support | Yes | No [2] [3] |
| Possible to secure by default on GNU/Linux distribution level | Yes | No [4] |
| Secure | Yes | No [5] |
| Optional GUI | Yes, sdwdate-gui (a systray icon) | No |
See also:
TODO:
sdwdate Design
[
edit
]
Server Authentication
[
edit
]
sdwdate [archive] only connects to Tor onion services, which are encrypted by default and do not rely on SSL certificate authorities (CAs). Three different pools are used for time sources so that if too many connections fail for any given pool, [8] the pool is considered as potentially compromised and sdwdate aborts.
sdwdate Source Pools
[
edit
]
Determining what sources should be trusted is an important issue; this is also a problem with NTP.
The sdwdate pools used by Whonix ™ are based on stable and reliable Tor onion service web servers. The pools are listed in /etc/sdwdate.d/30_default.conf [archive].
The various onion services are categorized into three different pools according to their members' relationship to the members in other pools. For instance, any member in one pool should be unlikely to share logs (or other identifying data), or agree to send fake time information, with a member from the other pools. In basic terms, sdwdate picks three random servers - one from each pool - and then builds the mediate (middle position) of the three advertised dates.
sdwdate is only using 'pal' pools and not relying on 'neutral' and 'foe' pools as per tails_htp, because a good rationale for that approach has not yet been provided. [9] [10]
Trusted Time Sources
[
edit
]
The links below are listed to keep track of pool candidates:
Screenshots
[
edit
]
Figure: sdwdate GUI Control Panel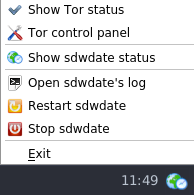 Figure: sdwdate GUI Successful Check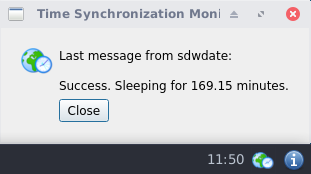 Related
[
edit
]
Footnotes
[
edit
]
---
---
---
Search engines: YaCy | Qwant | ecosia | MetaGer | peekier | Whonix ™ Wiki
---
Interested in becoming an author for the Whonix News Blog [archive] or writing about anonymity, privacy and security? Please get in touch!
This is a wiki. Want to improve this page? Help is welcome and volunteer contributions are happily considered! Read, understand and agree to Conditions for Contributions to Whonix ™, then Edit! Edits are held for moderation. Policy of Whonix Website and Whonix Chat and Policy On Nonfreedom Software applies.
Copyright (C) 2012 - 2020 ENCRYPTED SUPPORT LP. Whonix ™ is a trademark. Whonix ™ is a licensee [archive] of the Open Invention Network [archive]. Unless otherwise noted, the content of this page is copyrighted and licensed under the same Freedom Software license as Whonix ™ itself. (Why?)
Whonix ™ is a derivative of and not affiliated with Debian [archive]. Debian is a registered trademark [archive] owned by Software in the Public Interest, Inc [archive].
Whonix ™ is produced independently from the Tor® [archive] anonymity software and carries no guarantee from The Tor Project [archive] about quality, suitability or anything else.
By using our website, you acknowledge that you have read, understood and agreed to our Privacy Policy, Cookie Policy, Terms of Service, and E-Sign Consent. Whonix ™ is provided by ENCRYPTED SUPPORT LP. See Imprint, Contact.