Chromium
From Whonix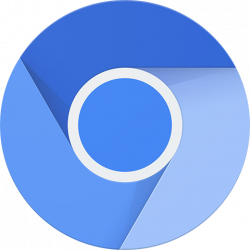 Warning:
In Whonix ™, for better anonymity it is recommended to use only Tor Browser for browsing the internet. Use of any browsers such as Chromium, Firefox, Opera or others is discouraged. Reasons for that are elaborated on the Tor Browser wiki page.
Installation
[
edit
]
Despite usually being commended on the wiki page Install Additional Software Safely, installation of Chromium using APT is currently discouraged. This is because the Debian buster version of Chromium is outdated and comes with security vulnerabilities which where reported being exploited in the wild. [1] (This was resolved. [archive])
One option might be to install using flatpak from flathub. Special instructions are also required in this case.
Installation of flatpak from Debian backports. [2]
flatpak can be installed from Debian backports. This is non-ideal, see footnote. [3]
1. Boot Whonix-Workstation ™ (whonix-ws-15) TemplateVM.
2. Add the current Debian stable backports codename buster-backports to Debian apt sources.
Note: this applies to Whonix ™ 15.0.1.5.4. Later Whonix ™ versions may use a codename different to buster.
In Whonix-Workstation ™ (whonix-ws-15) TemplateVM, run.
sudo su -c "echo -e 'deb tor+https://deb.debian.org/debian buster-backports main contrib non-free' > /etc/apt/sources.list.d/backports.list"
Alternatively, users who like Onionizing Repositories can set the .onion mirror.
sudo su -c "echo -e 'deb tor+http://vwakviie2ienjx6t.onion/debian buster-backports main contrib non-free' > /etc/apt/sources.list.d/backports.list"
3. Update the package lists.
4. Install the select software.
sudo apt-get -t buster-backports install flatpak
The procedure is now complete.
5. Undo.
On occasion it is necessary to undo this configuration, for example when upgrading from Debian buster to bullseye. [4] To proceed, run.
sudo rm /etc/apt/sources.list.d/backports.list
Add flathub repository. [5]
flatpak remote-add --if-not-exists flathub https://flathub.org/repo/flathub.flatpakrepo
Install Chromium from flathub repository. [6] [7]
flatpak install flathub org.chromium.Chromium
sudo chmod -s $(which bwrap)
sudo sysctl kernel.unprivileged_userns_clone=1
flatpak run org.chromium.Chromium
Qubes Specific
[
edit
]
flatpak installed applications do not show up in Qubes start menu [archive]
Related
[
edit
]
Footnotes
[
edit
]
---
---
---
Search engines: YaCy | Qwant | ecosia | MetaGer | peekier | Whonix ™ Wiki
---
This is a wiki. Want to improve this page? Help is welcome and volunteer contributions are happily considered! Read, understand and agree to Conditions for Contributions to Whonix ™, then Edit! Edits are held for moderation. Policy of Whonix Website and Whonix Chat and Policy On Nonfreedom Software applies.
Copyright (C) 2012 - 2021 ENCRYPTED SUPPORT LP. Whonix ™ is a trademark. Whonix ™ is a licensee [archive] of the Open Invention Network [archive]. Unless otherwise noted, the content of this page is copyrighted and licensed under the same Freedom Software license as Whonix ™ itself. (Why?)
The personal opinions of moderators or contributors to the Whonix ™ project do not represent the project as a whole.
Whonix ™ is a derivative of and not affiliated with Debian [archive]. Debian is a registered trademark [archive] owned by Software in the Public Interest, Inc [archive].
Whonix ™ is produced independently from the Tor® [archive] anonymity software and carries no guarantee from The Tor Project [archive] about quality, suitability or anything else.
By using our website, you acknowledge that you have read, understood and agreed to our Privacy Policy, Cookie Policy, Terms of Service, and E-Sign Consent. Whonix ™ is provided by ENCRYPTED SUPPORT LP. See Imprint, Contact.