How-to: Use Electrum in Whonix
Electrum is a popular Bitcoin wallet. The non-official thin client Electrum appears to be well-designed. It does not need to download/verify the blockchain and users store their private keys locally, which eliminates the need to trust third-party severs. [1]
Install Electrum
[
edit
]
Unfortunately the electrum version in Debian stretch does not work (Whonix 14 is based on Debian stretch). Therefore, the next best option is installing electrum from Debian stretch-backports.
Package electrum can be installed from Debian backports. This is non-ideal, see footnote. [2]
1. Boot Whonix-Workstation (whonix-ws-14) TemplateVM.
2. Add the current Debian stable backports codename stretch-backports to Debian apt sources.
Note: this applies to Whonix 14.0.1.3.8. Later Whonix versions may use a codename different to stretch.
In Whonix-Workstation (whonix-ws-14) TemplateVM, run.
sudo su -c "echo -e 'deb https://deb.debian.org/debian stretch-backports main contrib non-free' > /etc/apt/sources.list.d/backports.list"
Alternatively, users who like Onionizing Repositories can set the .onion mirror.
sudo su -c "echo -e 'deb tor+http://vwakviie2ienjx6t.onion/debian stretch-backports main contrib non-free' > /etc/apt/sources.list.d/backports.list"
3. Update the package lists.
4. Install the select software.
sudo apt-get -t stretch-backports install electrum
The procedure is now complete.
5. Undo.
On occasion it is necessary to undo this configuration, for example when upgrading from Debian stretch to buster. [3] To proceed, run.
sudo rm /etc/apt/sources.list.d/backports.list
Starting Electrum
[
edit
]
Please refer to the official Documentation at docs.electrum.org for comprehensive instructions, as well as more advanced topics like Cold Storage of private keys.

To start Electrum:
Qubes-Whonix users are recommended to configure a Split Bitcoin Wallet to better protect their private keys. To protect against identity correlation through Tor circuit sharing, follow the instructions below (see: Stream Isolation for more information).
Electrum: First Run
[
edit
]
Enabling Stream Isolation on the Electrum application

1. Manual server selection:
When Electrum is started for the first time, users are met with the prompt: "How do you want to connect to a server".
Choose Select server manually and press Next.
(Image: Connect to Server)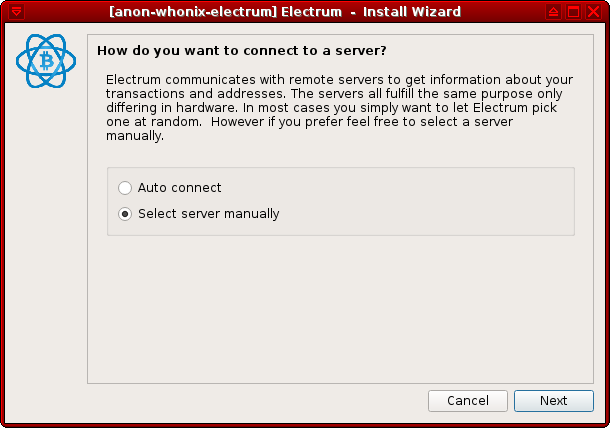 2. Change the Proxy settings:
The necessary settings are SOCKS5 with host 10.152.152.10 and port: 9111.
Press Next and the application should be fully functional.
(Image: SOCKS5 Proxy Configuration)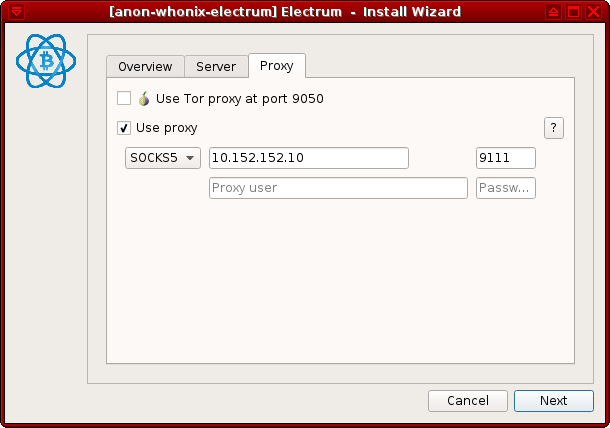 Note: If Electrum is already set up but stream isolation was not enabled, then navigate to Tools -> Network in Electrum to bring up the server and proxy settings.
Payments
[
edit
]
After having installed electrum, please consider making a payment to Whonix to keep it running for the years to come.
Payments Bitcoin (BTC) to Whonix.
3D7s3VY5QhV7zuZjMo1Rp6NsomKEcyzxby
Footnotes
[
edit
]
---
No user support in comments. See Support.
Comments will be deleted after some time. Specifically after comments have been addressed in form of wiki enhancements. See Wiki Comments Policy.
---
Random News:
Interested in becoming an author for the Whonix blog or writing about anonymity, privacy and security? Please get in touch!
---
This is a wiki. Want to improve this page? Help is welcome and volunteer contributions are happily considered! See Conditions for Contributions to Whonix, then Edit! IP addresses are scrubbed, but editing over Tor is recommended. Edits are held for moderation.
Whonix is a licensee of the Open Invention Network. Unless otherwise noted, the content of this page is copyrighted and licensed under the same Libre Software license as Whonix itself. (Why?)
Whonix is provided by ENCRYPTED SUPPORT LP. See Imprint.