Qubes/Install
HowTo: Install the Stable Version of Qubes-Whonix 14
---
Introduction
[
edit
]
First time user?

Warning:

If you do not know what metadata or a man-in-the-middle attack is.
If you think nobody can eavesdrop on your communications because you are using Tor.
If you have no idea how Whonix works.

Then read the About, Warning and Do Not pages to decide whether Whonix is the right tool for you based on its limitations.
Installation
These instructions apply to Qubes R3.2 and above.
Remove Old Versions
[
edit
]
Users who are already running any version of Qubes-Whonix must uninstall it before performing a complete (re-)installation. This applies to:
Users who selected Qubes-Whonix auto-configuration when Qubes was installed.
Users who installed Qubes-Whonix after installing the Qubes platform.
Before re-installation, back up any existing data stored in Whonix VMs. This is unnecessary if users choose to upgrade Whonix 13 to 14 instead of following these instructions.
Update dom0
[
edit
]
All Qubes Versions
[
edit
]
To launch a dom0 terminal, click the Qubes App Launcher (blue/grey "Q") and then open the Terminal Emulator (Xfce Terminal).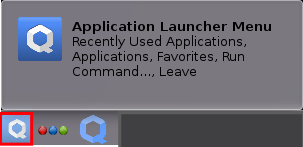 Upgrade Qubes dom0.
Download Whonix Templates and Configure sys-whonix and anon-whonix
[
edit
]
The recommended approach is to use salt (wrapped by the command qubesctl in Qubes), as this one call automatically: [1]
Downloads both Whonix-Gateway and Whonix-Workstation TemplateVMs.
Configures sys-whonix and anon-whonix safely. [2]

In dom0, run:
| | |
| --- | --- |
| | Before you execute the call, keep in mind that it can take a long time to execute (at least several minutes; some users reported more than 20 mins). No progress indicator is shown. Do not interrupt the salt process once it has started, or this can lead to an unstable system. The process is lengthy, particularly over Tor. [3] |
If an error message appears stating that qubesctl does not exist or the command is not recognized, then it is necessary to enable the testing repository and install salt.
Sometimes the Qubes Community Templates repository must also be enabled by editing /etc/yum.repos.d/qubes-templates.repo and setting enabled = 1 in the [qubes-templates-community] section.
If qubesctl still does not work, try shutting down Qubes OS and rebooting the machine.
Qubes R4 Only: Optional Whonix DVM Template VM
[
edit
]
In Qubes R4 and above, users can choose to set up a whonix-ws-14-dvm DVM Template as a base for Disposable VMs. [4]
In dom0, run.
Optional: Updates over Tor
[
edit
]
TemplateVMs
[
edit
]
To force all TemplateVM updates over Tor: [5]
R3.2: For each template, manually open VM settings and set NetVM to sys-whonix.
R4: Use salt in dom0:

sudo qubesctl state.sls qvm.updates-via-whonix
In Qubes R4, this setting can be undone by modifying /etc/qubes-rpc/policy/qubes.UpdatesProxy [6]
To force dom0 updates over Tor, set Qubes dom0 UpdateVM to sys-whonix.
To revert this change, run.
Optional: Enable AppArmor
[
edit
]
Update and Launch Applications
[
edit
]
Before starting applications in the Whonix-Workstation AppVM, update both Whonix-Gateway and Whonix-Workstation TemplateVMs.
To launch an application like Tor Browser:
Qubes App Launcher (blue/grey "Q") -> Domain: anon-whonix -> Privacy Browser
To learn about known bugs affecting this release, see here.
Additional Information
[
edit
]
Footnotes
[
edit
]
---
---
This is a wiki. Want to improve this page? Help is welcome and volunteer contributions are happily considered! See Conditions for Contributions to Whonix, then Edit! IP addresses are scrubbed, but editing over Tor is recommended. Edits are held for moderation.
Whonix is a licensee of the Open Invention Network. Unless otherwise noted, the content of this page is copyrighted and licensed under the same Libre Software license as Whonix itself. (Why?)