Whonix ™ for VirtualBox with CLI
Jump to navigation
Jump to search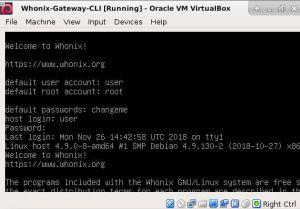 Whonix ™ with command line interface (CLI) is a version suited for advanced users -- those who want Whonix ™ without a graphical user interface (GUI). Everyone else should install the user-friendly Whonix ™ VirtualBox with GUI Xfce.
Please follow these steps to install Whonix ™ CLI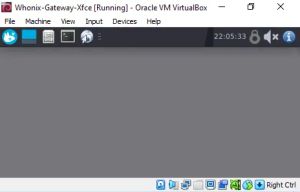 1

Download Whonix ™ CLI
Whonix ™ CLI is available for Windows, MacOS and Linux
Optional: Verify the Whonix ™ Images cryptographically.
Version: 16.0.9.0

Digital signatures can increase security but this requires knowledge. Learn more about digital software signature verification.
How to verify the Whonix ™ Images : Whonix ™ virtual machine images are cryptographically signed by Whonix ™ developer Patrick Schleizer using OpenPGP and signify.
Do you already how to perform digital software verification using an OpenPGP and/or signify key?
2

Install VirtualBox
Download and install VirtualBox for your operating system.
3

Import Whonix ™ into VirtualBox
For Whonix ™ VirtualBox import instructions, please press on expand on the right.
Click on File then choose Import Appliance...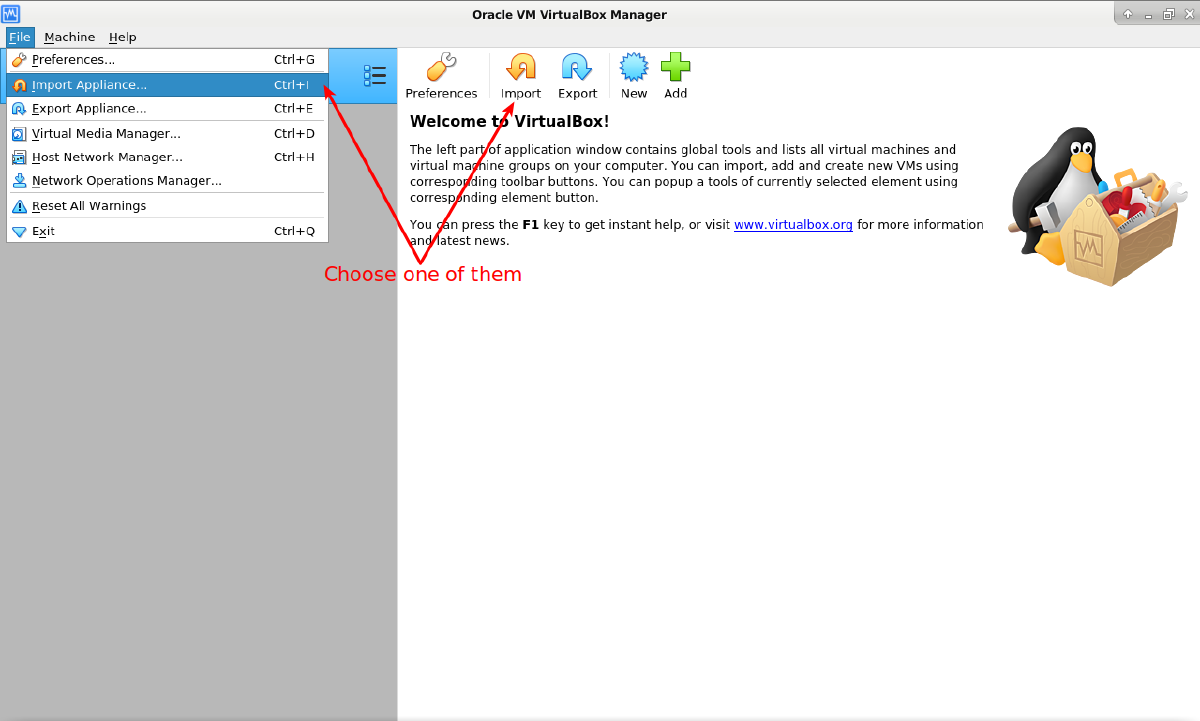 Navigate and select Whonix ™ image and press next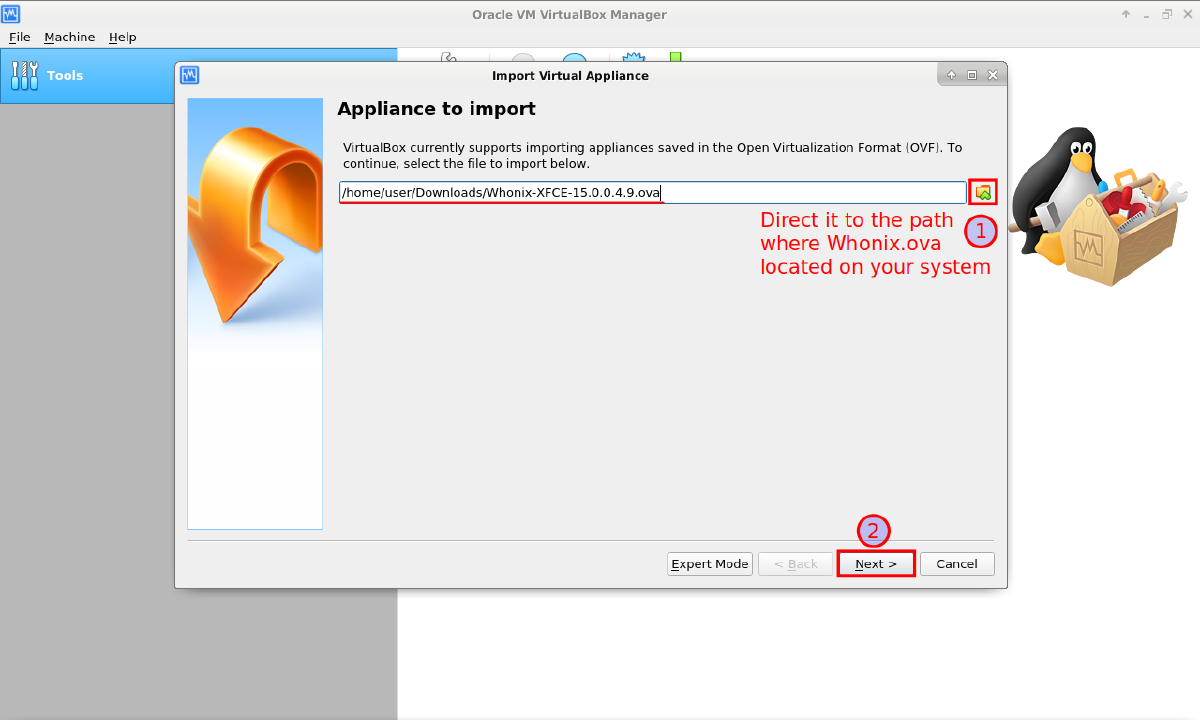 Do NOT change anything! Just click on Import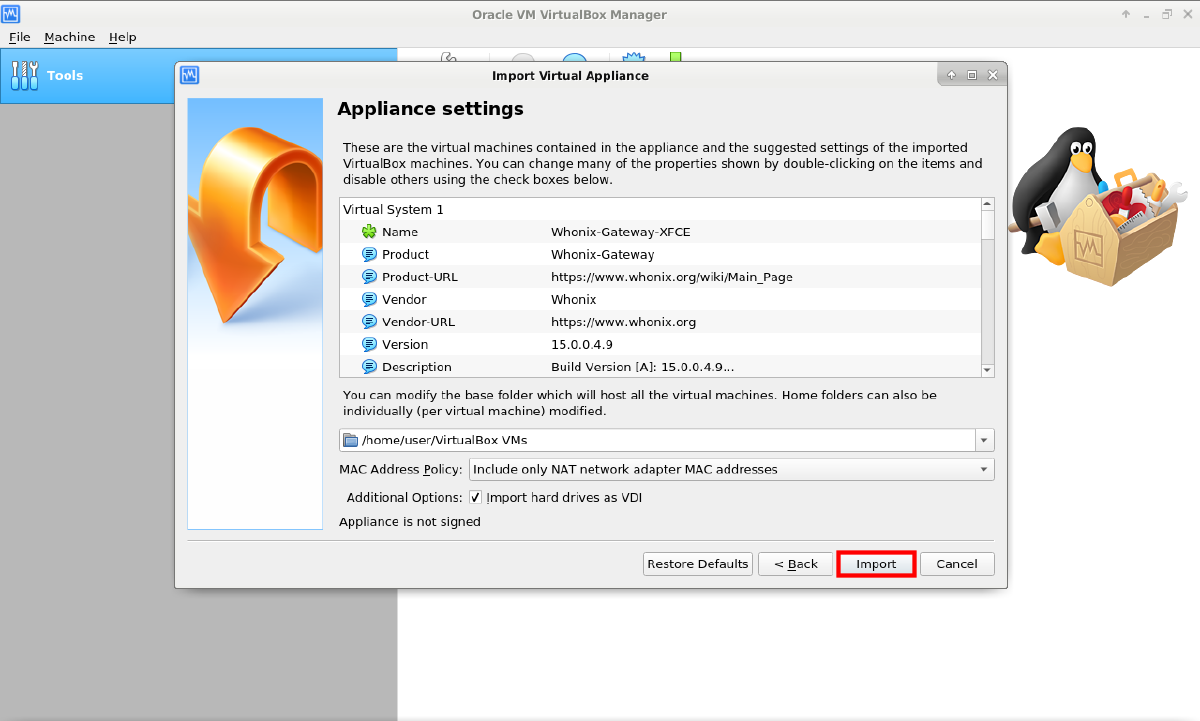 Wait until Whonix ™ .ova has been imported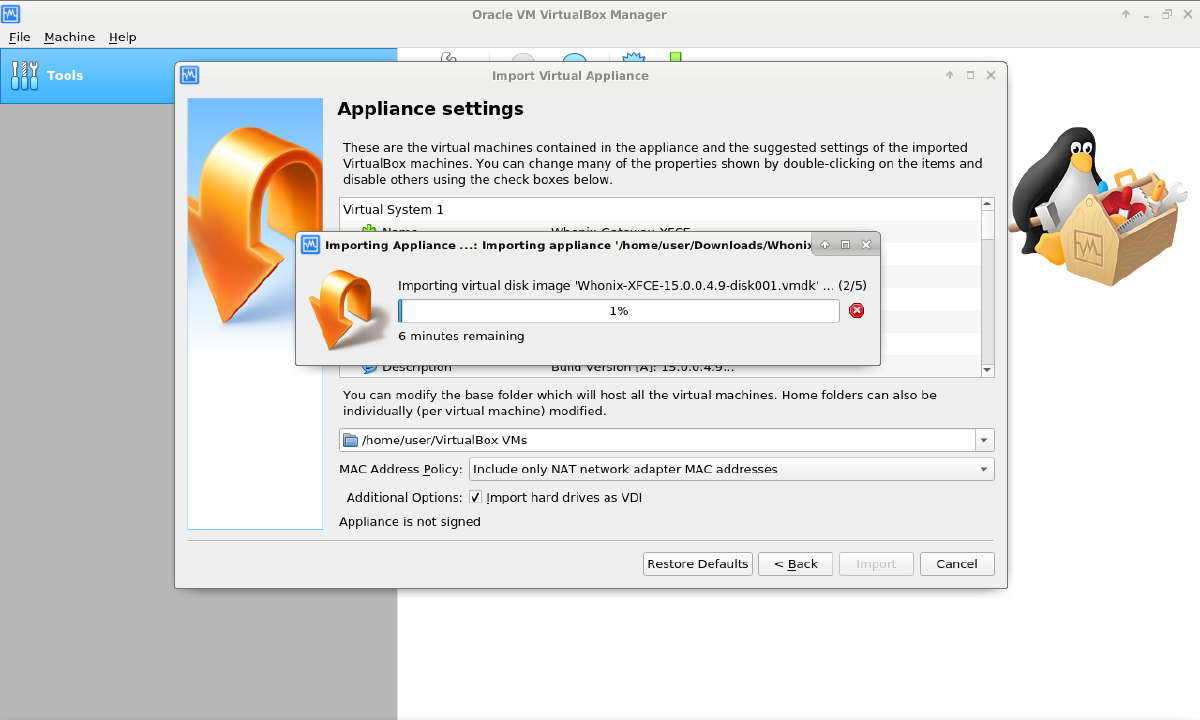 Now start both Whonix-Gateway ™ and Whonix-Workstation ™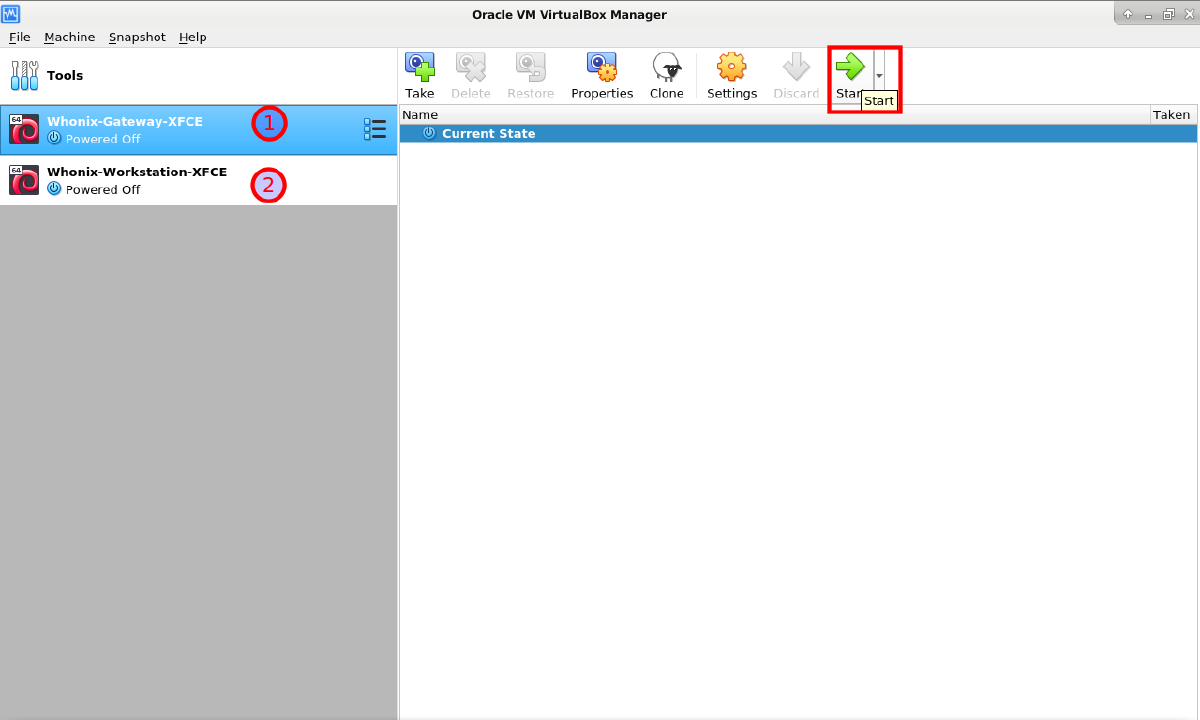 Miscellaneous
There are also Video Tutorials.
If you still need help, please check the Support page.
For command line import instructions, see footnote. [7]
4

Start Whonix ™
Starting Whonix ™ is simple:
Start VirtualBox
Double-click the Whonix-Gateway ™ and Whonix-Workstation ™
First time user / Docs / Troubleshooting
First time users information

Warning:
If you do not know what metadata or a man-in-the-middle attack is.
If you think nobody can eavesdrop on your communications because you are using Tor.
If you have no idea how Whonix ™ works.
Then read the Design and Goals, Whonix ™ and Tor Limitations and Tips on Remaining Anonymous pages to decide whether Whonix ™ is the right tool for you based on its limitations.
See Also
For additional VirtualBox guides and information, please press on expand on the right.
Footnotes → press Expand
Footnotes
[
edit
]
↑ 1.0 1.1 1.2 Optional: See: https://www.virtualbox.org/manual/ch02.html#install-linux-vboxusers Also spams ~/.config/VirtualBox/VBoxSVC.log log if not done.
↑ This is unspecific to Whonix ™. This is because during package installation of a package that requires kernel modules when "SecureBoot" is enabled, Ubuntu's dkms is prompting the user for a password to encrypt the key which will be used to enroll the kernel module signing key. This is Ubuntu usability issue. It is unknown if any bug report / feature request for this exists. Please contribute, research, report this issue on Ubuntu's issue tracker.
↑ This is non-ideal but required since VirtualBox in unavailable in official Debian bullseye repository and difficult to install due to VirtualBox Installation Challenges. Alternatively you could install VirtualBox from the Oracle (virtualbox.org) Repository, but this comes with different risks. VirtualBox might be updated by VirtualBox developers before being tested with Whonix ™ which could then lead to issues. (Described in footnote here.)
↑ This is to acquire the Debian fasttrack repository package sources.
↑ This is because by Kicksecure ™ default:

The Debian fasttrack repository is already enabled.
Kernel headers package "linux-headers-$(dpkg --print-architecture) is already installed.

↑ On the Linux platform.
1. Read License Agreement:

vboxmanage import Whonix-XFCE-16.0.9.0.ova --vsys 0 --eula show --vsys 1 --eula show

2. Import Whonix-Gateway and Whonix-Workstation ™.

vboxmanage import Whonix-XFCE-16.0.9.0.ova --vsys 0 --eula accept --vsys 1 --eula accept