Download Whonix ™ for Windows 7, 8, 10
From Whonix
Download
[
edit
]
Download the Whonix ™

Installer

. FREE

(Sig)
Install Whonix
[
edit
]
Launch Whonix Installer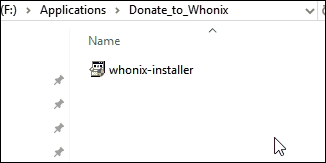 Start Installation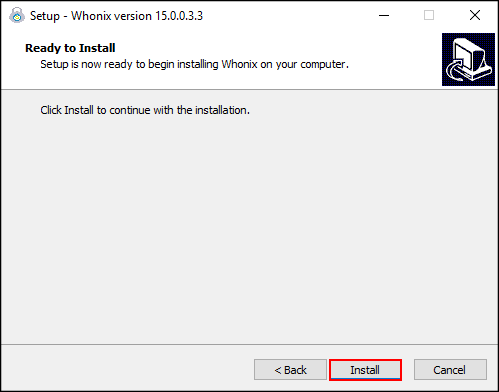 Accept License Agreement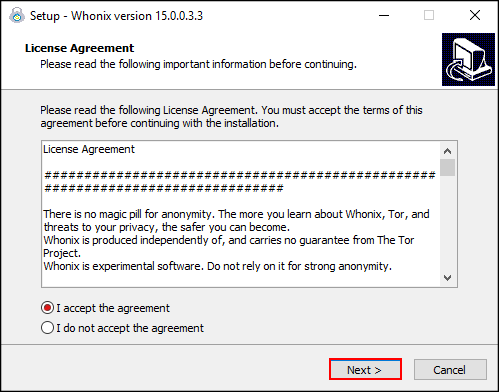 Wait for File Extraction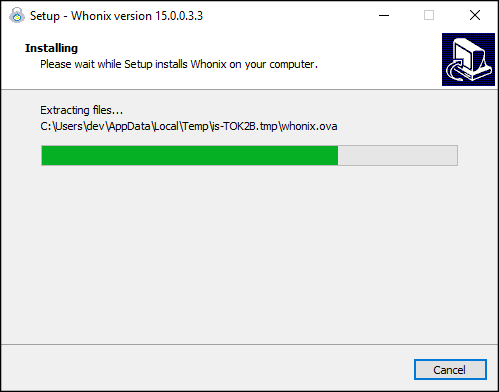 Finalized Installation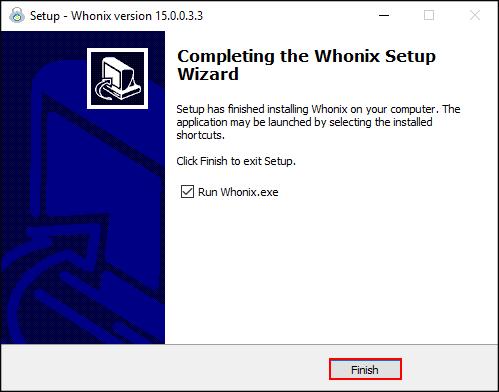 Done! Whonix ™ installation is complete!
Start Whonix
[
edit
]
"Double-click" Whonix desktop starter

"Click" Launch Whonix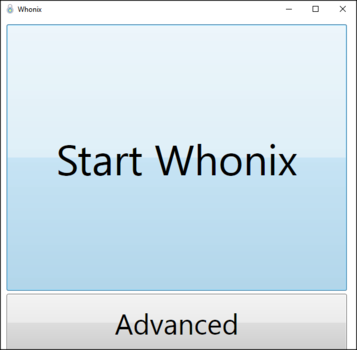 Running Whonix ™ Virtual Machine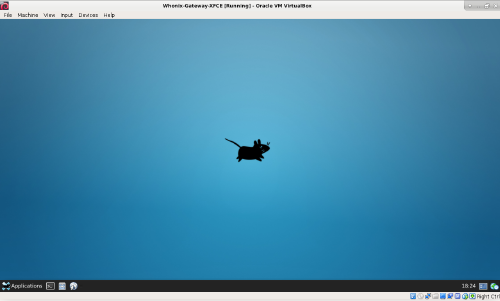 Shutdown Whonix
[
edit
]
"Click" Stop Whonix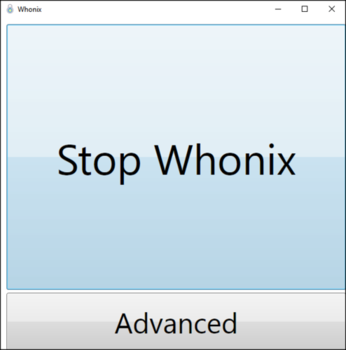 VirtualBox
[
edit
]
Screen Resolution Bug
[
edit
]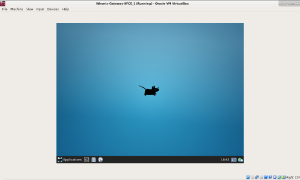 If the display presents like the image on the right-hand side, then you are affected by a screen resolution bug which only occurs in VirtualBox. To correct the resolution, apply the following workaround.
Power off the VM.
Restart the VM.
Maximize the VM window after start of the VM as soon as possible.
VirtualBox VM Window → View → Virtual Screen 1 → Choose any, resize to another resolution
VirtualBox VM Window → View → Auto-resize Guest Display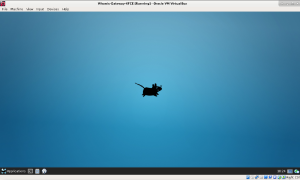 If above does not work, another option is the following.
XFCE Start Menu → Settings → Display → Resolution: → Choose a higher resolution resolution → Apply
Guides and Documentation
[
edit
]
First time user?

Warning:
If you do not know what metadata or a man-in-the-middle attack is.
If you think nobody can eavesdrop on your communications because you are using Tor.
If you have no idea how Whonix works.
Then read the Design and Goals, Whonix ™ and Tor Limitations and Tips on Remaining Anonymous pages to decide whether Whonix is the right tool for you based on its limitations.
See Also
For additional VirtualBox guides and information, please press on expand on the right.
---
---
This is a wiki. Want to improve this page? Help is welcome and volunteer contributions are happily considered! Read, understand and agree to Conditions for Contributions to Whonix ™, then Edit! Edits are held for moderation.
Copyright (C) 2012 - 2019 ENCRYPTED SUPPORT LP. Whonix ™ is a trademark. Whonix ™ is a licensee [archive] of the Open Invention Network [archive]. Unless otherwise noted, the content of this page is copyrighted and licensed under the same Freedom Software license as Whonix ™ itself. (Why?)
Whonix ™ is a derivative of and not affiliated with Debian [archive]. Debian is a registered trademark [archive] owned by Software in the Public Interest, Inc [archive].
Whonix ™ is produced independently from the Tor® [archive] anonymity software and carries no guarantee from The Tor Project [archive] about quality, suitability or anything else.
By using our website, you acknowledge that you have read, understood and agreed to our Privacy Policy, Cookie Policy, Terms of Service, and E-Sign Consent. Whonix ™ is provided by ENCRYPTED SUPPORT LP. See Imprint.