Main Page/de
---

Whonix ist ein Betriebssystem für Desktopcomputer, welches sich auf Sicherheit und Privatsphäre spezialisiert hat. Es verhindert realistische Angriffe und ist dabei dennoch benutzerfreundlich. Es macht Anonymität im Internet möglich durch ausfallsichere, automatische, desktopweite Benutzung des Tor-Netzwerkes. Es handelt sich um ein vorkonfiguriertes Debian, welches in virtuellen Maschienen läuft, bietet eine umfangreiche Schutzschicht gegenüber Viren und IP leaks. Vorinstallierte, vorkonfigurierte Programme sind sofort einsatzbereit. Die Installation von zusätzlichen Programmen oder die Konfiguration des Dekstops ist sicher. Whonix is das einzige aktiv entwickelte Betriebssystem, welches dafür vorgesehen ist, in virtuellen Maschinen in Verbindung mit Tor verwendet zu werden.
Whonix is a free desktop operating system (OS) that is specifically designed for advanced security and privacy. Based on Tor, Debian GNU/Linux and the principle of security by isolation, it realistically addresses common attack vectors while maintaining usability. Online anonymity is made possible via fail-safe, automatic, and desktop-wide use of the Tor network, meaning all connections are forced through Tor or blocked. The Tor network helps to protect from traffic analysis by bouncing your communications around a distributed network of relays run by global volunteers. Without advanced, end-to-end, netflow correlation attacks, anybody watching your Internet connection cannot easily determine the sites you visit, and those sites cannot learn your physical location. [1]
Whonix uses a heavily reconfigured Debian base which is run inside multiple virtual machines (VMs) on top of the host OS. This architecture provides a substantial layer of protection from malware and IP leaks. Applications are pre-installed and pre-configured with safe defaults to make them ready for use. The user is not jeopardized by installing custom applications or personalizing the desktop. Whonix is the only actively developed OS designed to be run inside a VM and paired with Tor.

Whonix besteht aus zwei Teilen: Einer hat nur den Zweck, eine Verbindung über das Tor-Netzwerk herzustellen und dient als Gateway, daher der Name "Whonix-Gateway". Der Andere, genannt "Whonix-Workstation", ist über ein isoliertes Netzwerk angebunden. Nur Verbindungen durch das Tor-Netzwerk sind möglich. Durch Whonix ist es möglich Programme und Server anonym über das Internet zu benutzen. DNS leaks sind ausgeschlossen. Nicht mal Viren mit Rootrechten können die reale IP des Benutzers herausfinden.
Whonix consists of two parts: the Whonix-Gateway and the Whonix-Workstation. The former runs Tor processes and acts as a gateway, while the latter runs user applications on a completely isolated network. The Whonix design affords several benefits:
Only connections through Tor are permitted.
Servers can be run, and applications used, anonymously over the internet.
DNS leaks are impossible.
Malware with root privileges cannot discover the user's real IP address.
Threats posed by misbehaving applications and user error are minimized.

Figure: Whonix Operating System Design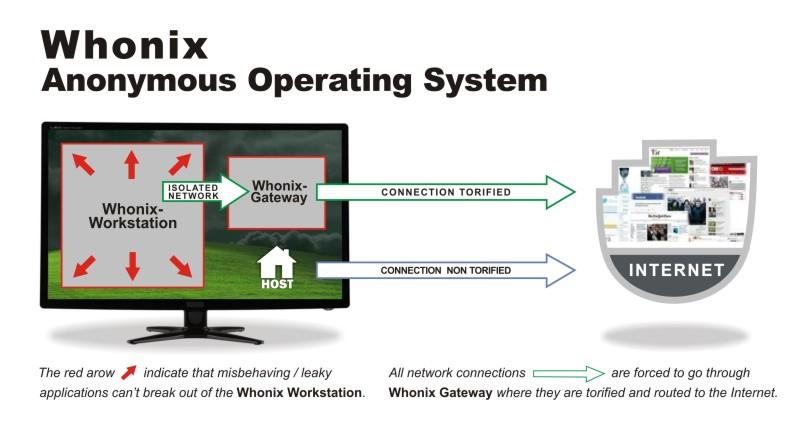 Many pre-installed or custom-installed applications used simultaneously are stream-isolated in Whonix. For example, Tor Browser, Hexchat, Thunderbird and several other applications use a dedicated Tor SocksPort, preventing identity (pseudonym) correlation that may otherwise occur when the same Tor circuit and exit relay are used. Applications using Tor's DNS and/or Transport can be optionally disabled.
Figure: Whonix Stream Isolation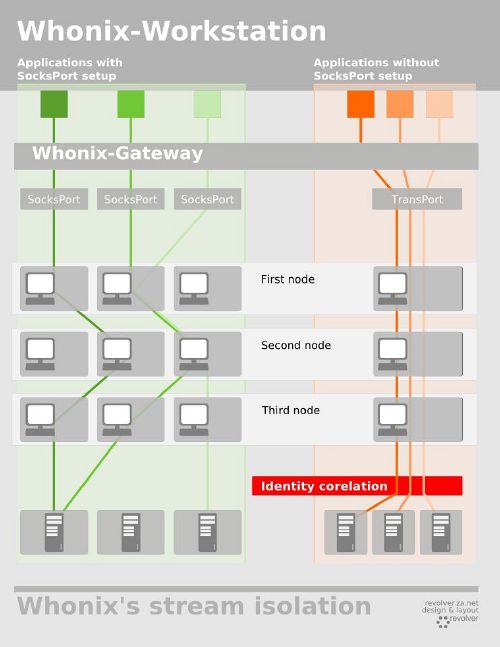 Whonix User Groups
The increasing threat of mass surveillance and repression all over the world means our freedoms and privacy are rapidly being eroded. Without precautions, your Internet service provider (ISP) and global surveillance systems can record everything you do online, as IP addresses associated with network activity are easily traced to the physical location of your computer(s), and ultimately you. Whonix is one solution to this problem.
Anyone who values privacy or does sensitive work on their desktop or online can benefit from using Whonix. This includes, but is not limited to:
Ermittler und Whistleblower, deren Arbeit eine Gefahr für die Mächtigen darstellt.

In einer isolierten Umgebung ist es möglich, zu recherchieren und Beweise zu sammeln, ohne versehentliche Enttarnung.
Forscher, Regierungsbeamte oder Geschäftsleute, welche das Ziel von Spionage sein könnten.

Antiviren- und Antiexploitmechanismen verringern die Gefahr durch Trojaner und Hintertüren.
Journalisten, welche sich selbst in Gefahr bringen, über organisierte Kriminalität zu berichten.

Compartmentalized, anonymous internet use prevents identity correlation between social media and other logins.
Politische Aktivisten, welche überwacht werden.

Der Nutzen der Drohnung den Internetanbieter der Zielperson zu überwachen, wird erheblich herabgesetzt. Die Kosten einen Benutzer von Whonix zu überwachen sind deutlich höher.
Durchschnittliche Computernutzer in einer repressiven oder zensierten Umgebung.

Easy Tor setup and options for advanced configurations means users in repressive countries can fully access the internet desktop-wide, not just in their browser.
Durchschnittliche Computernutzer, welche einfach nicht wollen, dass alle oder einige Aspekte ihres Privatlebens hochgeladen, gespeichert und analysiert werden.

Whonix sammelt keine Daten über seine Benutzer.
Portal
|
Über
---
Impressum
|
Datenschutz
|
Haftungsausschluss
Twitter
|
Facebook
|
Google+
↑ Current practical, low-latency, anonymity designs like Tor fail when the attacker can see both ends of the communication channel (traffic going into and out of the Tor network). If you can see both flows, simple statistics based on data volume and timing can determine whether they match up.