Tor Browser Essentials
From Whonix
Introduction
[
edit
]
Tor Browser [archive] [2] is a fork [archive] of the Mozilla Firefox ESR [archive] web browser. It is developed by The Tor Project [archive] and optimized [archive] and designed [archive] for Tor, anonymity and security. [3] Most will have browsed with Firefox and be familiar with the user interface that resembles those found in other popular, modern browsers. [4]
It is strongly encouraged to read this entire chapter so Tor Browser is used effectively and safely on the Whonix ™ platform. Advanced users may also be interested in the Tor Browser Adversary Model. Regularly consult the Tor Project blog [archive] to stay in tune with Tor / Tor Browser news and the latest release information. The Tor Browser release schedule for each platform can also be found here [archive].
Anonymity vs Pseudonymity
[
edit
]
If browsers other than Tor Browser are used in Whonix ™, the IP address and Domain Name Service (DNS) requests [5] are still protected. However, only Tor Browser provides protocol level cleanup, which includes unique features like proxy obedience, state separation, network isolation, and anonymity set preservation.
In stark contrast to regular browsers, Tor Browser is optimized for anonymity and has a plethora of privacy-enhancing patches [archive] and add-ons. [6] By sharing the Fingerprint with around two million other people [archive], [7] Tor Browser users "blend in" with the larger population and better protect their privacy.
Encryption
[
edit
]
HTTPS Encryption
[
edit
]
It is important to understand the difference between HTTP and HTTPS: [8]
Hypertext Transfer Protocol Secure (HTTPS) is an extension of the Hypertext Transfer Protocol [archive] (HTTP). It is used for secure communication [archive] over a computer network [archive], and is widely used on the Internet. In HTTPS, the communication protocol [archive] is encrypted [archive] using Transport Layer Security [archive] (TLS), or, formerly, its predecessor, Secure Sockets Layer (SSL). The protocol is therefore also often referred to as HTTP over TLS, or HTTP over SSL.
The principal motivation for HTTPS is authentication [archive] of the accessed website [archive] and protection of the privacy [archive] and integrity [archive] of the exchanged data while in transit. ...
HTTPS Advantages
[
edit
]
HTTPS advantages include: [8]
Authentication of the website and web server that is being communicated with.
Protection against Man-in-the-middle Attacks.
Bidirectional encryption of communications between a client and server. This protects against eavesdropping and tampering with / forging of communication contents.
A reasonable expectation that the website being communicated with is genuine. [9]
In the Tor Browser context, this means HTTPS should be preferred over HTTP so communication is encrypted while browsing the Internet. While traffic is encrypted throughout the Tor network, the exit relay (third of three servers) can see traffic sent into Tor if it is plain HTTP. If HTTPS is used, the exit relay will only know the destination address. [10]
As an example, the screenshot below captures the browser appearance when visiting the Whonix ™ website. [11]
Figure: A Secure Connection to www.whonix.org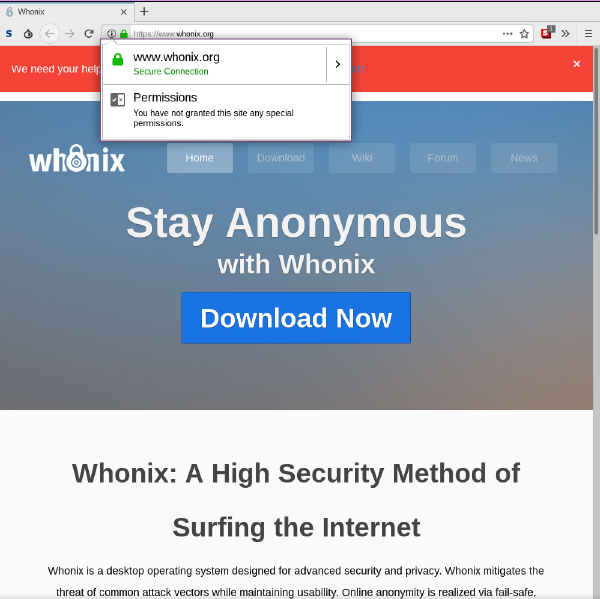 Take note of the small, left-hand area of the address bar. Indicators of an encrypted connection are www.whonix.org is highlighted with a padlock and "Secure Connection" in green writing, and the URL begins with https:// instead of http://
HTTP / HTTPS Connections with and without Tor
[
edit
]
The following figures from EFF provide an overview of HTTP / HTTPS connections with and without Tor, and what information is visible to various third parties. The descriptors are as follows: [12]
Potentially visible data includes: the site you are visiting (SITE.COM), your username and password (USER/PW), the data you are transmitting (DATA), your IP address (LOCATION), and whether or not you are using Tor (TOR).
Figure: Tor and HTTPS

Figure: Tor and No HTTPS

Figure: No Tor and HTTPS

Figure: No Tor and No HTTPS
Onion Services Encryption
[
edit
]
Whenever possible, utilize Onion Services (.onion addresses) so communications and web browsing stay within the Tor network. These resources are still commonly referred to as "hidden services", even when their location is publicly known. [13]
Onion Services Advantages
[
edit
]
URLs ending in the .onion extension provide a superior level of security and privacy, since the connection forms a tunnel which is encrypted (end-to-end) using a random rendezvous point within the Tor network; HTTPS is not required. These connections also incorporate perfect forward secrecy (PFS) [archive]. PFS means the compromise of long-term keys does not compromise past session keys. As a consequence, past encrypted communications and sessions cannot be retrieved and decrypted if long-term secrets keys or passwords are compromised in the future by adversaries. [14]
Onion services provide several other benefits: [15]
Passive surveillance by both network observers and the Tor exit node is prevented, unlike the plain Tor + HTTPS configuration. Adversaries cannot easily determine which destination is being connected from/to.
Onion services establish "rendezvous points" in the Tor network for web services, meaning neither the hosting service nor the user can discover the other's network identity.
Onion services can be combined with SSL/TLS to provide additional protection. Only a handful of sites currently provide this service with v3 onions, such as DuckDuckGo: https://duckduckgogg42xjoc72x3sjasowoarfbgcmvfimaftt6twagswzczad.onion/ [archive] [16] [17] [18]
To learn more about how onion services work, refer to the technical description.
Tor Browser Add-Ons
[
edit
]
Introduction
[
edit
]
Any default add-ons that are installed in Tor Browser should not be removed or disabled in the about:addons page. Tor developers have considered the security and anonymity benefits of this configuration, even though NoScript blocking is disabled (JavaScript is enabled) in Tor Browser by default [archive] (see footnote). [21] Developers have reasoned that this helps to avoid feature breakage and focuses efforts on designing a private browsing environment that does not rely on filters.
HTTPS Everywhere
[
edit
]
HTTPS Everywhere [archive] is a Firefox extension shipped in Tor Browser and produced as a collaboration between The Tor Project [archive] and the Electronic Frontier Foundation [archive]. It helps to encrypt communications with a number of major sites.
Many sites on the Internet offer some limited support for encryption over HTTPS, but make it difficult to use. For instance, sites may default to unencrypted HTTP or fill encrypted pages with links that return to the unencrypted version of site. The HTTPS Everywhere extension addresses these problems by rewriting all site requests to HTTPS.
To learn more about HTTPS Everywhere, visit:
NoScript
[
edit
]
NoScript is a free, open source extension that comes bundled with Tor Browser and other Mozilla-based web browsers. NoScript can provide significant protection with the correct configuration: [22]
By default, NoScript blocks active (executable) web content, which a user can wholly or partially unblock by whitelisting a site or domain from the extension's toolbar menu: Sites can be set as 'allowed', 'trusted', or 'untrusted', and the whitelist persists between sessions. Temporarily allowed sites won't by added to the permanent whitelist, and work only until the browser session ends. Active content may consist of JavaScript [archive], web fonts, Java [archive], Flash [archive], Silverlight [archive], and other plugins [archive]. The add-on also offers specific countermeasures against security exploits. ... This is based on the assumption that malicious websites can use these technologies in harmful ways.
NoScript protects against cross-site scripting [archive] (XSS), whereby attackers inject malicious client-side scripts into destination web pages, bypassing the same-origin policy [archive]. [23] The same-origin policy refers to web browser enforcement of permissions -- scripts in the first web page are usually only allowed to access data in a second web page if they have the same origin (URL scheme, hostname and port number). [24]
When NoScript is enabled, a host of tracking / profiling services are neutralized because they rely on JavaScript. For example, various operating system and browser configuration details are revealed if JavaScript is not disabled. [22] Another unintended benefit concerns the use of system resources. When JavaScript is disabled, studies reveal that bandwidth consumption can be reduced by more than 40 per cent on the top 150 Alexa websites. Similarly, less system resources are required to display a web page in the browser. [25]
Security vs Usability Trade-off
[
edit
]
In the stock Tor Browser configuration, JavaScript is enabled by default for greater usability. The Tor Project FAQ provides a rationale for this decision: [26]
We configure NoScript to allow JavaScript by default in Tor Browser because many websites will not work with JavaScript disabled. Most users would give up on Tor entirely if a website they want to use requires JavaScript, because they would not know how to allow a website to use JavaScript (or that enabling JavaScript might make a website work).
There's a trade-off here. On the one hand, we should leave JavaScript enabled by default so websites work the way users expect. On the other hand, we should disable JavaScript by default to better protect against browser vulnerabilities (not just a theoretical concern! [archive]). But there's a third issue: websites can easily determine whether you have allowed JavaScript for them, and if you disable JavaScript by default but then allow a few websites to run scripts (the way most people use NoScript), then your choice of whitelisted websites acts as a sort of cookie that makes you recognizable (and distinguishable), thus harming your anonymity.
The take-home message is disabling all JavaScript with white-list based, pre-emptive script-blocking may better protect against vulnerabilities (many attacks are based on scripting), [27] but it reduces usability on many sites and acts as a fingerprinting mechanism based on the select sites where it is enabled. [22] On the other hand, allowing JavaScript by default increases usability and the risk of exploitation, but the specific fingerprint has more in common with the larger user pool. [28] [29] [30]
Developers are unaware of any JavaScript vulnerabilities that could compromise Whonix ™ anonymity. That said, it is inadvisable to change NoScript settings in Tor Browser unless the potential impacts are known. To enable/disable JavaScript, Java and/or plugin execution, left-click the NoScript status bar icon or use the the contextual menu [archive]. [31] Permissions can be granted either temporarily or on a permanent basis using a whitelist. "Temporarily Trusted" will only enable a script(s) for that site until the browser session is closed, or until the permission is manually revoked.
For further information, refer to the NoScript website [archive] and features overview [archive], or the Torbutton design document [archive].
You should Disable JavaScript by Default!
[
edit
]
As noted in the previous section, disabling JavaScript by default may worsen fingerprinting. There are several other reasons why Whonix ™ has not made any modifications:
Whonix ™ is not a "secure browser" project - the focus is on creating a stable, reliable anonymity distribution which aligns with best practice security and privacy principles, informed by educated researchers in the field.
Possible fingerprinting or security issues with default settings in Tor Browser are the domain of core Tor developers.
Whonix ™ has limited manpower, meaning the resources do not exist to create a more secure browser, even if it was desirable. [33]
Tor Browser is not significantly modified for the same reasons Whonix ™ does not modify or attempt to improve Tor. [34]
Having Whonix ™ share the fingerprint of other Tor Browser users is good for anonymity.
Experienced Tor developer Mike Perry has provided justification for enabling JavaScript by default in a tor-talk mailing list topic; see "Tor Browser disabling Javascript anonymity set reduction" [archive]. In summary, Tor Button and Tor Browser patches handle the most serious JavaScript concerns, such as IP address / location bypass problems. [35]
Due to the loss in functionality, disabling JavaScript by default might place Whonix ™ users in a small subset of the Tor Browser population. The JavaScript behavior of the broader population is an open research question, so it safest to avoid changes which might reduce the anonymity set. Keep in mind the fingerprinting potential is also dependent on Tor Browser's security [archive] slider settings. Ultimately individuals are free to turn JavaScript on or off, depending on their security, anonymity and usability preferences [archive].
NoScript Custom Setting Persistence
[
edit
]
It is possible to save custom NoScript settings between browser restarts with a preference. [36] This preference is disabled by default, which means custom NoScript settings will not persist across successive Tor Browser sessions.
Warning
[
edit
]
This preference sacrifices privacy for convenience and is therefore not recommended. While frequently visited sites do not require the constant enabling/disabling of scripts across separate Tor Browser sessions, a number of anonymity risks are introduced: [37]
Disk hygiene: Tor Browser is designed to prevent the persistent storage of history records and other on-disk information. This preference violates that design principle by allowing the storage of NoScript per-site permissions, thereby increasing the chance an adversary can extract valuable information from that data.
Long-term fingerprinting vectors: Persistent per-site settings allow a website to profile Tor Browser users, particularly if first-party isolation [archive] is not enforced. For example, consider the negative anonymity impact of whitelisting Google or Facebook, since their advertisements and tracking widgets are ubiquitous.
Expert opinion: Experienced Tor developers have confirmed that enabling this preference is dangerous and caution should be exercised. [38]
Persistent NoScript Settings
[
edit
]
If this is acceptable, in the Tor Browser address bar:
"Type" about:config → "Press" enter → "Choose" I accept the risk! → "Type" extensions.torbutton.noscript_persist → "Toggle" to true [39]
This preference will be overridden and all custom per-site settings lost, if:
The security slider setting is changed afterwards; or [38]
extensions.torbutton.noscript_persist is again set to false, [40] since NoScript settings are reset after Tor Browser syncs with the Security Slider position.
Non-default Add-ons
[
edit
]
As Tor Browser is based on Firefox, any browser add-on that is compatible with Firefox can also be installed in Tor Browser. In this context, add-ons are the collective name given to extensions, themes and plugins: [41]
Extensions add new features to Firefox or modify existing ones, like video downloaders, ad blockers and so on.
Themes change the appearance of the browser, such as buttons, menus and the background image.
Plugins add support for Internet content and often include patented formats like Flash and Silverlight which are used for video, audio, online games and more. [42]
Non-default Add-on Risks
[
edit
]
The Tor Project explicitly warns against using non-default add-ons with Tor Browser: [41]
However, the only add-ons that have been tested for use with Tor Browser are those included by default. Installing any other browser add-ons may break functionality in Tor Browser or cause more serious problems that affect your privacy and security. It is strongly discouraged to install additional add-ons, and the Tor Project will not offer support for these configurations.

...

Video websites, such as Vimeo make use of the Flash Player plugin to display video content. Unfortunately, this software operates independently of Tor Browser and cannot easily be made to obey Tor Browser's proxy settings. It can therefore reveal your real location and IP address to the website operators, or to an outside observer. For this reason, Flash is disabled by default in Tor Browser, and enabling it is not recommended.
Recommendations
[
edit
]
The problem with non-default add-ons is that they are often comprised of non-free software, which can lead to the linkage of activities conducted under one pseudonym. They also worsen fingerprinting and open up attack vectors in the form of remote exploits.
This advice holds true even though Whonix ™ is configured to prevent these applications (along with malware) from leaking the real external IP address, even if they are misconfigured (see Features). Before installing non-default add-ons, first consider the various alternatives such as HTML5 or online media converters. [43]
Tor alone is not enough to protect anonymity and privacy while browsing the Internet. All modern web browsers support JavaScript [archive], Adobe Flash [archive], cookies [archive] and other features which are capable of defeating the anonymity [44] provided by the Tor network.
In Tor Browser, these features are handled from inside the browser, because it is a modified (patched) version of Firefox [archive] and it contains direct patches (based on the former Torbutton extension [archive]) that take care of application-level security and privacy concerns in Firefox. This means many types of active content are disabled. [45]
It is recommended to learn more about Fingerprinting and Data Collection Techniques to better understand the potential threats. Advanced users can also review detailed information about the former Torbutton design and its various functions here.
New Identity Function
[
edit
]
The "New Identity" menu option sends the protocol command "signal newnym" to Tor's ControlPort. This clears the browser state, closes tabs, and obtains a fresh Tor circuit for future requests. [46]
Sometimes Tor only replaces the middle relay while using the same Tor exit relay; this is by design and the Tor default. Further, "signal newnym" does not interfere with long-lived connections such as an IRC connection.
New Identity is not yet perfect and there are open bugs; this is not a Whonix ™-specific issue. [47] For greater security, it is better to completely close Tor Browser and restart it. In Qubes-Whonix ™, the safest option when performing sensitive activities is using a Whonix-Workstation ™ Disposable. To completely separate distinct activities, shut down the Disposable and create a new one between sessions.
There are two ways to use the New Identity feature:
Left-click the Hamburger Icon → Select "New Identity"

Left-click the 'broom' icon in the URL bar
Please read New Tor Circuit Design and the New Identity Design to learn more about this option and its limitations.
New Tor Circuit Function
[
edit
]
The "New Tor Circuit for this Site" feature creates a new circuit for the current Tor Browser tab, including other open tabs or windows from the same website. [48] If it is really necessary to separate contextual identities, it is always safer to close and then restart Tor Browser.
There are several, potential use cases for this feature: [49]
The Tor exit relay is located in a country which negatively affects the presentation of the website due to language localization.
The site is censored due to the current Tor exit relay in use (caused by Tor IP address blacklisting).
To bypass Google CAPTCHA [archive] or reCAPTHA [archive] systems protecting sites from abuse if these are showing unsolvable captcha or no captcha at all.
Connections to websites become unresponsive or slow.
To change the Tor exit relay IP address without losing all open tabs.
To use it: Left-click the Hamburger Icon → Select "New Tor Circuit for this Site"
Advanced users who want to learn more about this function should refer to the New Tor Circuit Design entry.
Check for Tor Browser Update
[
edit
]
Notifications will automatically appear if a Tor Browser update is available; see Tor Browser Internal Updater for further information and screenshots of this process. Note that multiple methods exist for updating Tor Browser.
To manually check for Tor Browser updates: Enter about:preferences in the URL bar → Scroll down to "Tor Browser Updates" → Click "Check for updates"
Disabled Functions
[
edit
]
Readers who are interested in why the "Open Networking Settings" and "Tor Circuit View" features have been disabled in Whonix ™ can learn more here.
Tor Browser: How-To
[
edit
]
Security Slider
[
edit
]
Tor Browser includes a "Security Slider" that allows the disabling of certain web features that can be used to compromise security and anonymity. At present there are three levels: "Safest", "Safer" and "Standard". It is necessary to make a trade-off between security, usability and privacy. At the higher levels the slider will prevent some sites from working properly. [50] Note that as of Tor Browser release v8.5, the security slider function has shifted to the taskbar. [51] [52]
To use this feature: Click Security Level button (taskbar 'shield') → Click "Advanced Security Settings..." → Select desired security level
Figure: Tor Browser Security Slider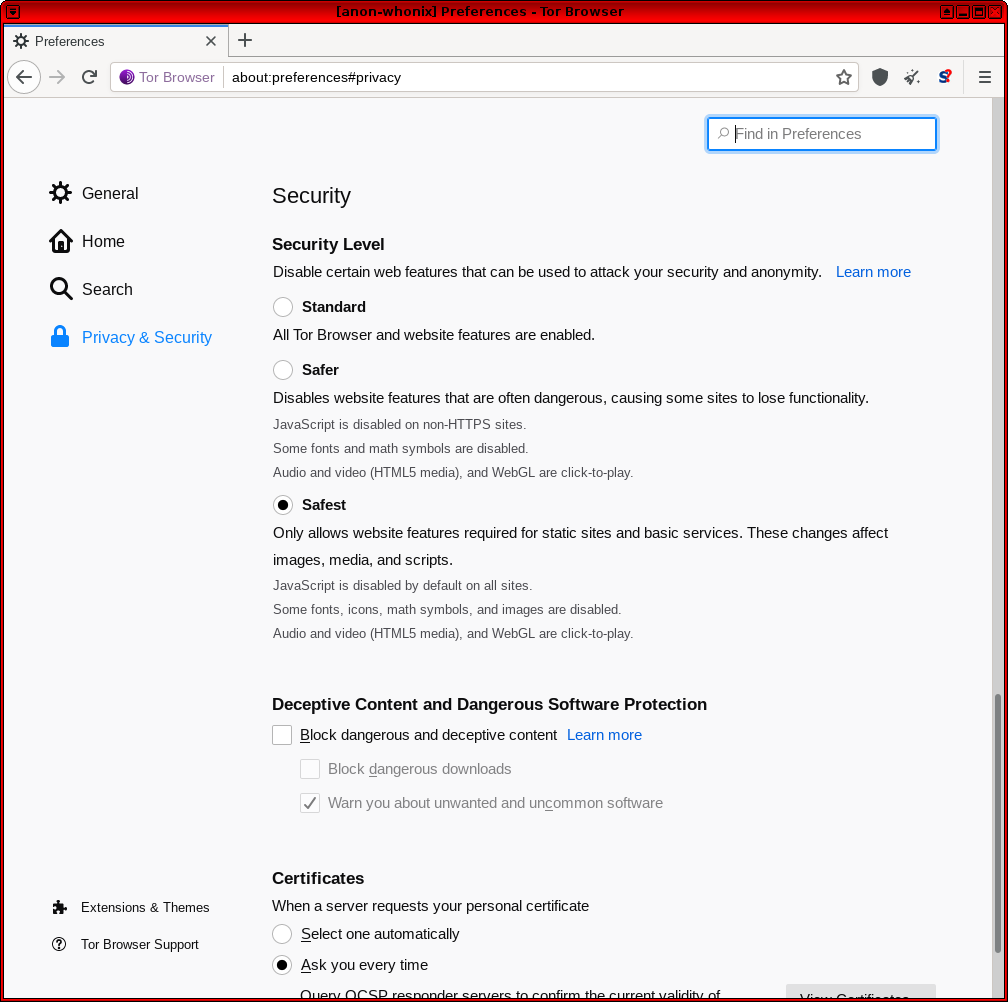 To learn more about the exact effect of each setting level, refer to the Security Slider design entry. For information on related Tor plans for redesigning browser security controls, see here [archive].
Start Tor Browser
[
edit
]
From the Menu
[
edit
]
Start Tor Browser.
Using Tor Browser Starter by Whonix ™. [53]
From the Command Line
[
edit
]
Using Tor Browser Starter by Whonix ™.
From the command line, Tor Browser can either be started normally, in verbose mode or in debugging mode (see next sections).
Open a terminal.
To start Tor Browser "normally" in a terminal, run.
In Verbose Mode
[
edit
]
Using Tor Browser Starter by Whonix ™.
This will show verbose output messages which might be useful for the user to identify eventual issues issue. In doubt, Support might help interpreting these messages. Verbose mode is not useful unless there are actual issue or for purpose of curiosity. In the latter case, please se support request policy.
Open a terminal.
To start Tor Browser Starter by Whonix ™ in verbose mode in a terminal, run.
In Debugging Mode
[
edit
]
If Tor Browser problems emerge, launch it from the command line in debugging mode for detailed output. This will show verbose output messages which might be useful for the user to identify the issue. In doubt, Support might help interpreting these messages.